In a historic move that is sure to help the animal rights movement, financial giant ING has announced that it will not fund many types of activities that harm or kill animals. For this courageous decision, PETA is giving the banking conglomerate its Compassionate Business Award.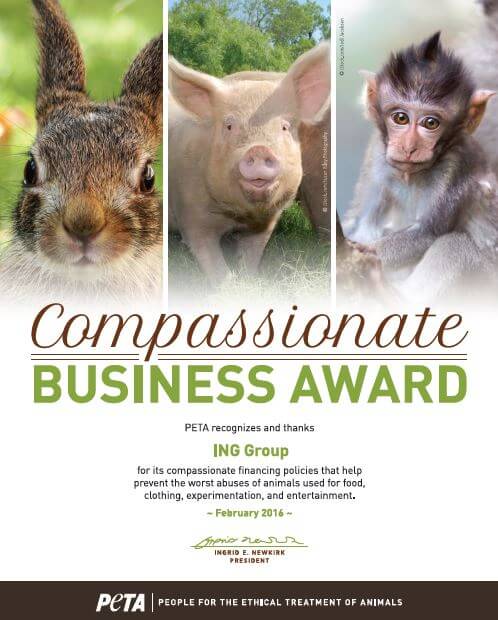 Under the groundbreaking new policy, ING will no longer finance tests on animals for cosmetics, the use of endangered species for commercial purposes, experiments on nonhuman primates or endangered species, bullfights or any type of animal fights for entertainment, fur farms, or the trade and manufacture of fur products, among other practices.
Why has ING made this groundbreaking decision? On fur farms, animals spend their entire lives in tiny, filthy cages before they are poisoned, bludgeoned, electrocuted, or even skinned alive. Monkeys and other primates used for experiments are caged, poisoned, cut into, and killed, while rabbits and other animals used for cosmetics tests have chemicals rubbed into their eyes and abraded skin. During bullfights, bulls are speared and stabbed and have their spinal cords hacked apart.
ING has set a precedent for forward-thinking financial groups everywhere and will receive a framed certificate from PETA in honor of its compassionate new policy.