Our media maid got a call yesterday from ING, you know, the bench people. They called to ask us—ever so nicely—to remove their logo and the ad we made with Ingrid Newkirk sitting on a bench with a cat looking up at her in the style of their iconic "Life's Easier on the Bench" ads from the web. We're all a bit sad to take it down, as we still get a lot of positive remarks about it, but alas, down it shall come.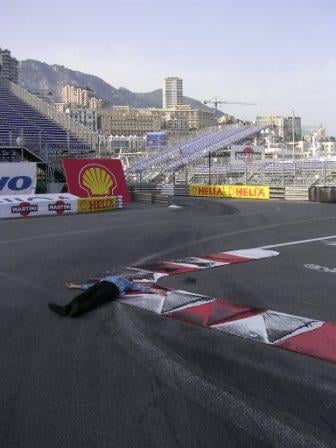 Ingrid's response when she heard we had to take her ING ad down . . .
When I asked Ingrid if this turn of events would sway her from her staunch support of the ING/Renault Formula 1 team, she was adamant that "it most certainly will not" and admonished me for even thinking such a thing. She said the "very polite lad" from ING was complimentary of our work, and that the company will actually consider sponsoring our doghouse and SNIP programs. With beloved dogs in many car commercials these days, and a duck working out investments for another company, that would fit perfectly.

Ingrid in training . . .
And of course it doesn't hurt that among the drivers she roots for are Renault/ING's Giancarlo Fisichella (who she once let take her taxi in the rain) and Heikki Kovalainen, who recorded the difficult pronunciation of his name for her website, and that she still fantasizes about running off to Magny-Cours to change tires for a living once this whole animal rights thing is taken care of.