OK, I had to admit that I had my doubts when I heard the first rumblings about a giant "fish quilt" we were making to raise awareness about the fact that fish are intelligent, intriguing animals who feel pain just as all other animals do and that they don't deserve to be violently killed for food, painfully hooked for "sport," or cruelly confined in aquariums. But now that I see the finished product, I have to admit that it's pretty cool.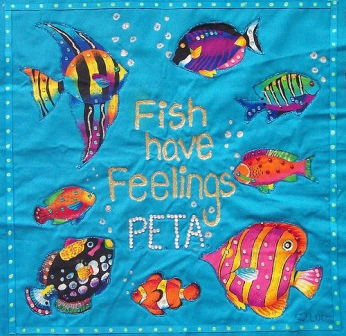 Lucy of Cuba, Missouri's square.
Each square was handmade for the quilt by PETA members and supporters across the country. Some people also submitted stories about why they no longer support cruelty to fish, including the following:
A Girl Scout troop from Austin, Texas, submitted several patches. The troop members were inspired by a discussion with a former commercial fisher, who had since gone vegetarian, about the damage that fishing does to animals and the environment.
A quilter from Winnipeg, Manitoba, shared a story about how she and her grandfather stopped fishing because of the cruelty involved. They found other ways to spend quality time together instead.
Several quilters made patches that bear the PETA slogan that Finding Nemo made famous: "Fish Are Friends, Not Food!"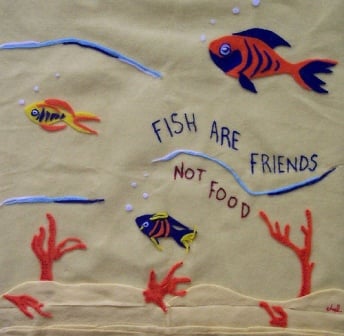 From Amanda in St. Catharine's, Ontario, Canada.
The giant fish quilt is now on a nationwide tour a la the aids quilt, so keep your eye out for it. Click here to see the full quilt. Here's a shot from its opening display in Manhattan last week.