Mais oui! The rain didn't keep members of PETA France—or nearly five hundred other demonstrators—away from a massive anti-fur march in Paris on Saturday.
Think these "grim reapers" are scary? Try watching PETA's fur exposés without covering your eyes. Betcha can't.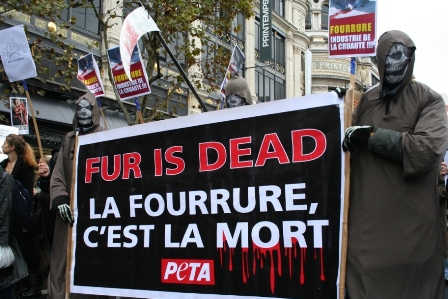 Onlookers learned the stomach-turning truth about fur—that regardless of whether it involves the bloody head-bashing of baby seals in Canada or the skinning of live animals on Chinese fur farms, fur always represents horrible suffering for animals.
As a result of the march, the French television news service M6 even ran a feature against the fur trade. It also polled visitors to its Web site: So far, out of 16,000 respondents, 81 percent favor an end to the fur trade.
So tell us, what's your opinion on fur?
Written by Karin Bennett