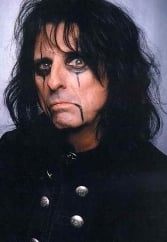 Arizona resident Alice Cooper
I'm never entirely sure whether one should say "a historic day" or "an historic day," but either way, yesterday was effin' historic, thanks in large part to the good people of Arizona, who in the past have brought us Alice Cooper, the 1 and 7 Arizona Cardinals, and cactuses (that's all that I could come up with that Arizona's famous for on short notice—I'm sure they've got more stuff). But the point is that yesterday, by 61 percent of the vote, gestation crates and veal crates were banned in the state! The measure will protect countless pigs and calves from excruciating confinement in these torture devices. This was despite the morally bereft but well-funded ass-hats in the agribusiness industry spending $2.5 million to defeat the proposition.
In the meantime, the consistently popular and well-liked state of Michigan, which is historically responsible for Lake Michigan and Three Men and a Baby's Tom Selleck (OK, sorry, I suck at this), voted overwhelmingly to support the 100-year tradition of protecting mourning doves from target shooting. This is a huge victory for birds and a nice little slap in the face for people who think it's a good idea to frickin' shoot at doves.

Michigan's state bird, the Mourning Dove
So if you know anyone from Arizona or Michigan, be sure to thank them for making such huge strides on behalf of animals, and if you are from AZ or MI yourself, great work! Now see what you can't do about getting some proper celebrities from your states.