I was greatly anticipating my trip to PETA's headquarters, the Sam Simon Center in Norfolk, Virginia, where I was going to spend time helping chained "backyard dogs." But I wasn't sure how I would handle personally witnessing these dogs' plight, after merely viewing images of it on PETA's Twitter feed. At home, I have two dogs who are my whole world, and I can't imagine treating these adoring, thinking, feeling beings like little more than lawn decorations.
PETA's fieldworkers do whatever it takes, in any and all weather conditions, to help make life a bit better for neglected and abused dogs, cats, and other animals in the area around Norfolk. PETA staffers have been visiting the region's "backyard dogs" for years. While these fieldworkers always encourage people to let their animals live indoors and make them a part of the family, they are also pragmatic. The straw that they deliver for the dogs who will remain outdoors won't freeze in the winter, as blankets will. And the doghouses that they provide help protect these dogs from both the bitter cold of winter and the sweltering heat of summer.
I was in awe of the fieldworkers—Kate, Heather, and Thomas—each of whom I accompanied for a day. We planned to visit five to seven homes each day, but I quickly realized, even before we got to the first site, that plans can change as a result of emergencies and people flagging down our van for anything from free flea meds and dog food to doghouses.
Over the course of three days, I accompanied the rescue workers on 22 cases, and nearly every one involved multiple animals. I felt such a mix of emotions, ranging from confusion to sadness and from gratitude to heartbreak. These are just a few of the animals I'll be thinking about for the rest of my life:
Sophie
Oh my goodness, Sophie was probably the cutest little puppy I had ever seen. Right before we headed to her trailer property, we had visited a dog who seemed to be the typical "backyard dog"—a middle-aged bully-breed dog considered to be property—and that's what I was expecting Sophie to be.
I was so surprised when we entered the trailer's backyard and saw a teeny-weeny 10-week-old, white puppy chained to a wooden pallet. My first thought was "OMG, puppy!" But those happy thoughts exited my mind just as quickly as they had entered when I realized that Sophie was already a bit scared of people, probably because she receives little to no attention. Plus, my mind had trouble processing that at just 10 weeks of age, Sophie was already being chained outside 24 hours a day, seven days a week, and this was how she was going to be spending the rest of her years.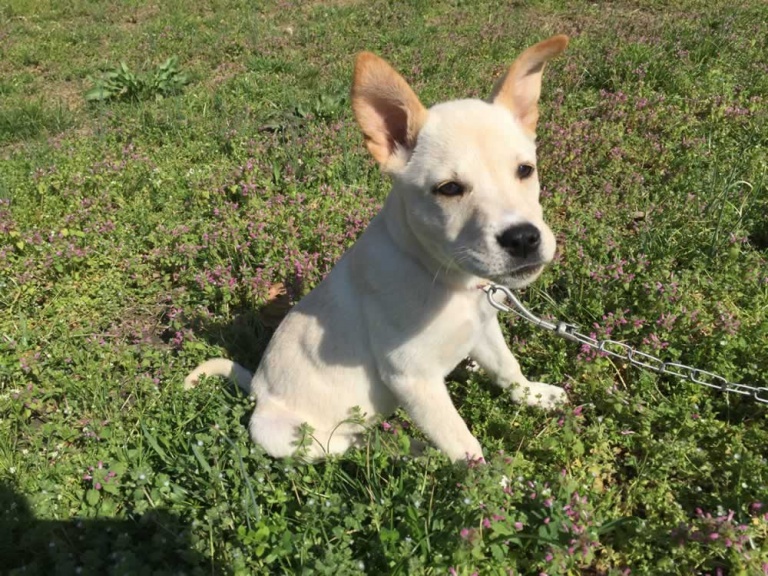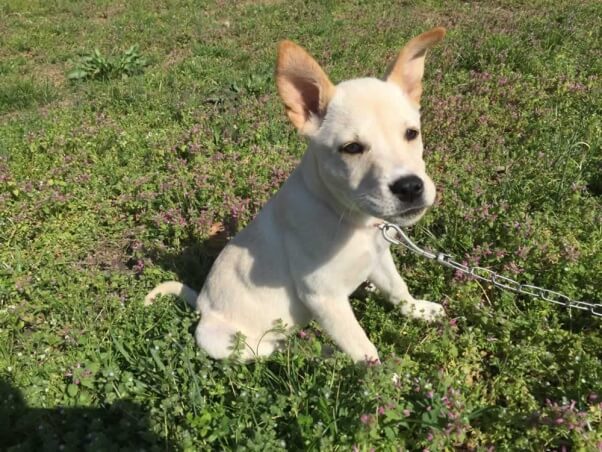 Sophie's guardian had contacted us a week or two earlier and asked us to spay Sophie, a crucial step in ending the animal overpopulation crisis. She had also asked for a free doghouse, which we were delivering today, to protect Sophie from wind, rain, cold, and heat. It puzzles me that someone would choose to get a puppy when they know that they're unable to provide for her and would have to rely on PETA to do so, but I was so glad that we were there to help this little girl.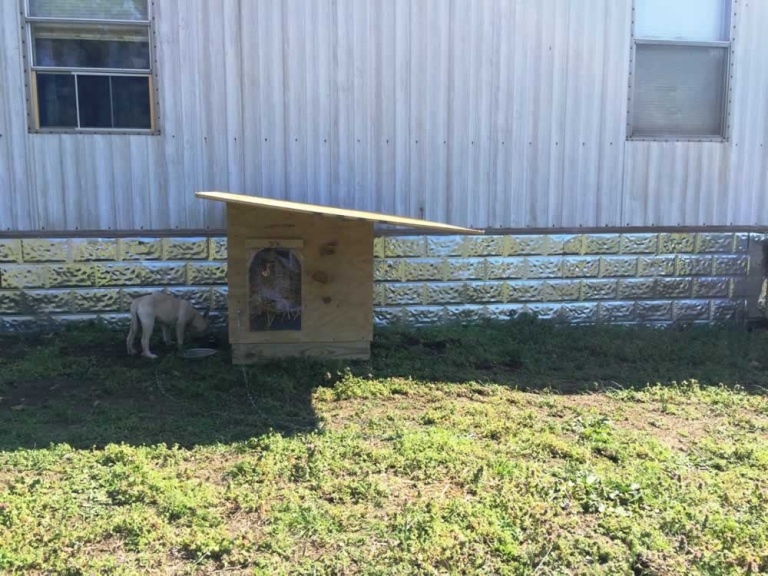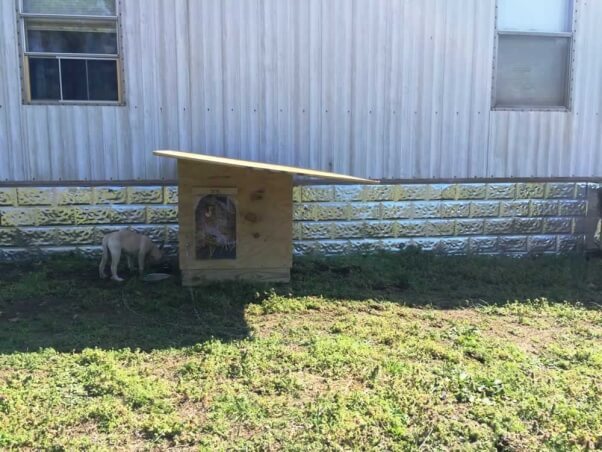 As we were setting up Sophie's new house, her guardian's mother watched as I hugged, kissed, petted, and ran around with this adorable puppy. My heart broke when I realized that the pup's  guardian almost certainly would not later provide the same kind of attention, which she so desperately needed. We ended by giving Sophie a meal (which her cat friend enjoyed as well) and some more love.
Kenny
A 13-year-old rat terrier mix, Kenny was one of the harder cases I had to see. We were visiting to give him flea meds, as our team did once a month. He had a severe allergy to the parasites, and nearly all of his fur had fallen out because of them.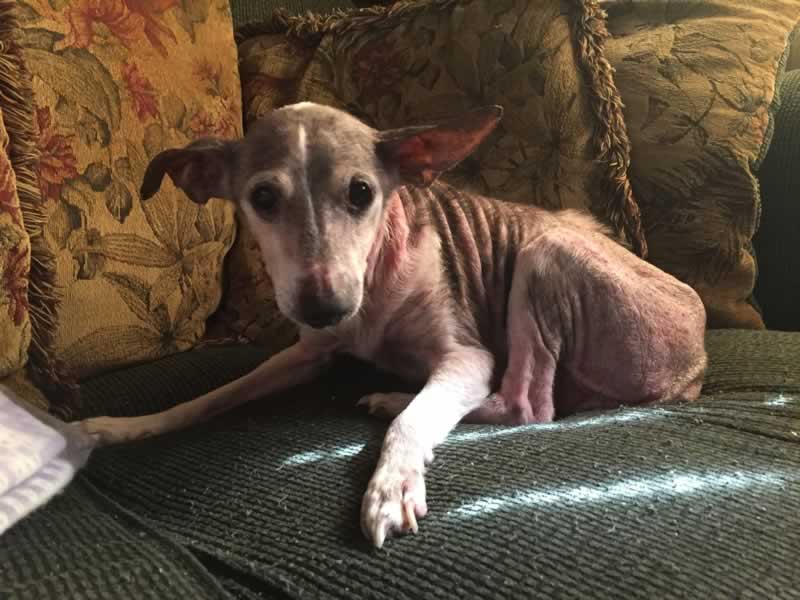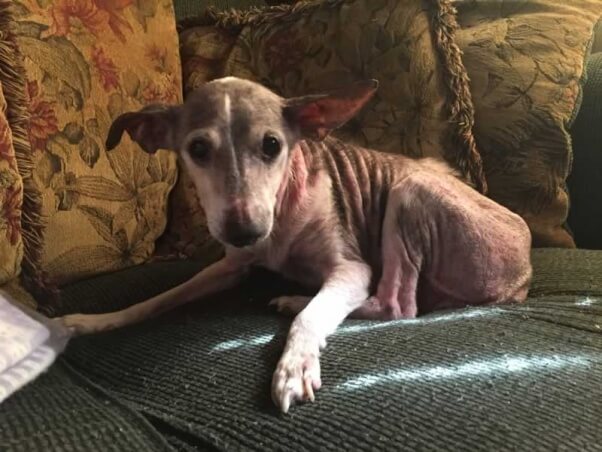 As it turned out, when we got to Kenny's trailer, his owner was crying, and she told us it was time to let him be at peace: She wanted us to take him for free euthanasia. I could definitely see why it was time to let him go. This poor old guy was in so much pain. He was constantly scratching his red, dry, flaky skin, causing it to bleed in places. Whole pieces of skin dotted the couch and blanket where he lay. Kenny had no fur left on his body apart from the little white tuft on the top of his head. He allowed me to pet him ever so slightly—anything more would only aggravate his condition—and as I looked into his clouded, blind eyes, with tears in mine, I could tell that he was suffering. Although it was extremely difficult for her, this kind woman had made the right decision for Kenny.
With great fondness, she showed us an old photo of Kenny taken when he was just a puppy. It was hard not to cry as we walked back to the van with Kenny: This woman cared deeply for him, and this was not always the case with other "owners" we had seen. I was so glad that we were able to  provide her with this service when she had nowhere else to turn.
Feral School-Bus Dogs
Heather warned me that the next property we were visiting was a little different from the others. She said that the dogs there weren't very socialized and that I should definitely have treats ready to give them so that we'd be safe. We pulled up to what looked like a graveyard for school buses, cars, and tractors, and right away, I noticed a tan dog curled up in the grass. She was up in a hurry after seeing our van and headed over to one of many piles of trash. I then noticed that she had gone over to protect her puppies. I, of course, wanted to show them affection, but they were terrified of us and stood out of reach the whole time we were there. This was devastating for me, because I knew that the tan dog and her puppies weren't getting the love and attention that all dogs need. In fact, their "owner" didn't even live on this property.
This family of dogs was so unsocialized that not even the four young puppies understood that we were there to offer love and help. Their guardian was not around, but he told us by phone to leave him a bag of dog food, which we did. We also threw some treats to the dogs and headed back on the road. We weren't able to do anything more for now.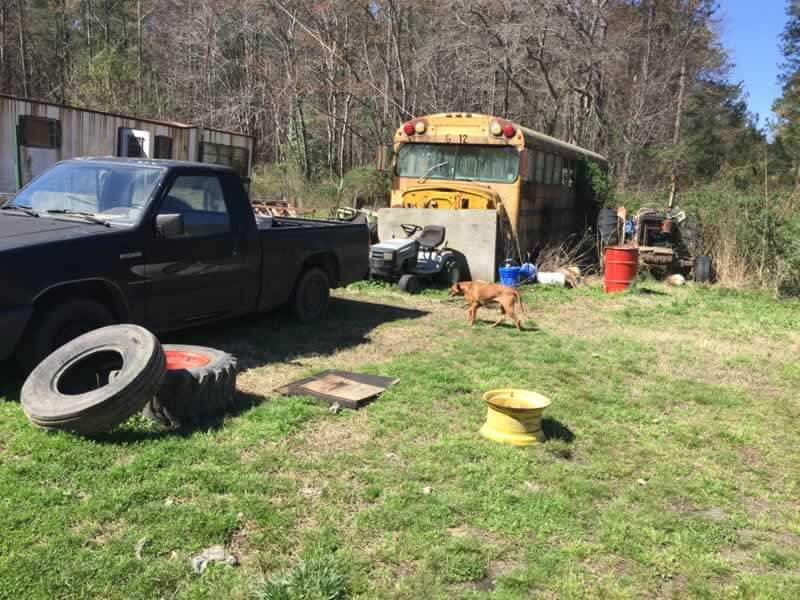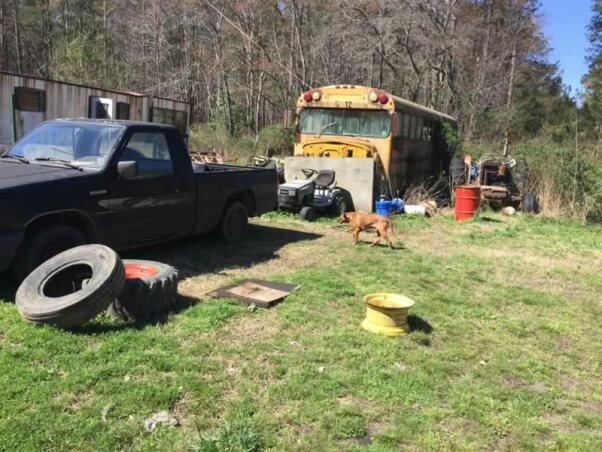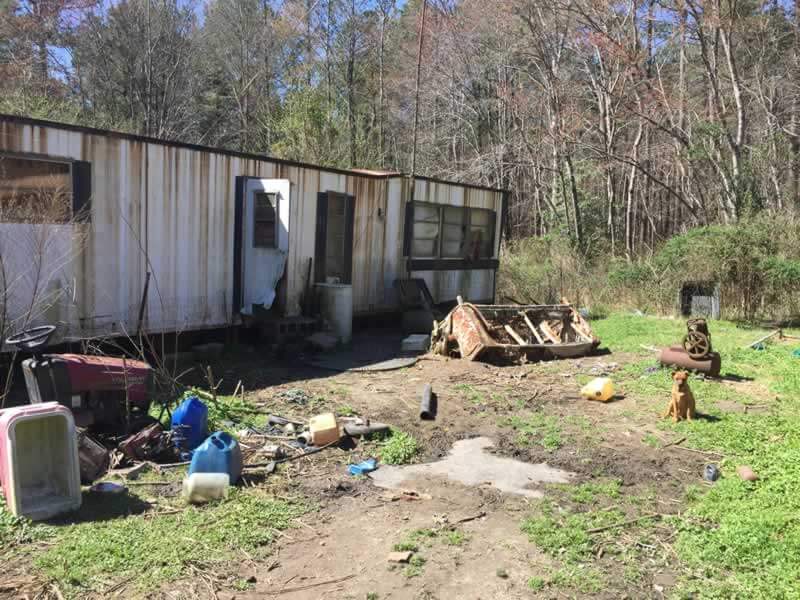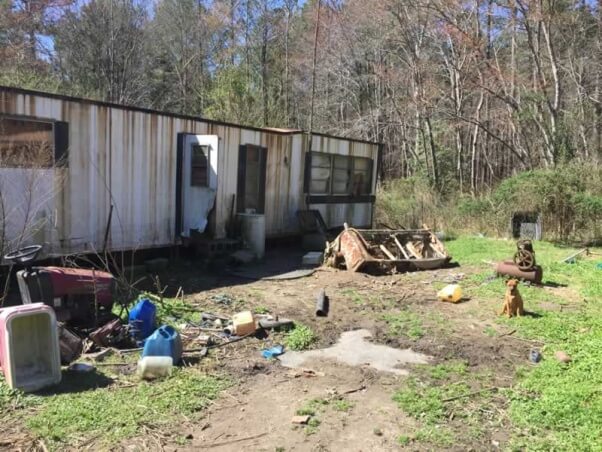 Mother Dog and Two Puppies
On my third day, Thomas told me that we were going to visit a mother dog and her two pups. Their guardian had previously agreed to let us take four of this mother's puppies and work on finding new homes for them, but he kept two for himself. As we approached, Thomas solemnly expressed his empathy for the two puppies still tied up outside and remarked sadly on the fact that they were getting the raw end of deal.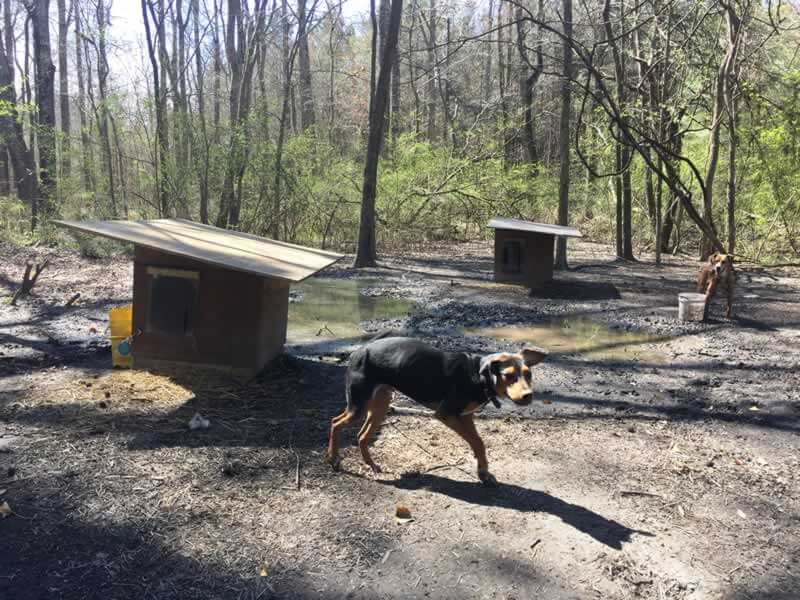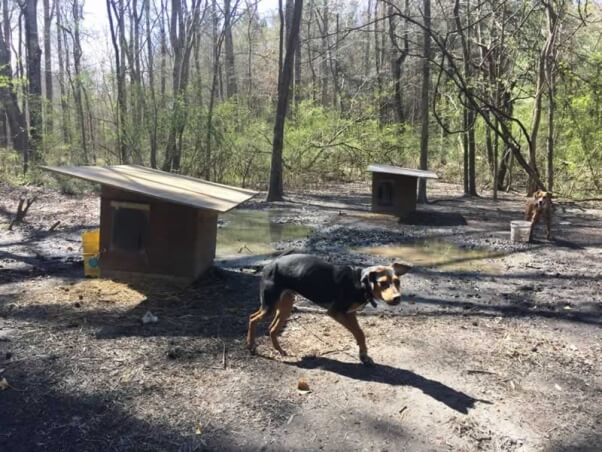 When we pulled up, I could see the three dogs on their chains jumping and wagging their tails excitedly as we knocked on the door of the guardian's home. There was no answer, so we called the guardian on the phone. As we waited for a response, one of the puppies sprinted right at us! He was so excited finally to be getting some attention that he must have snapped his poorly made collar. We quickly caught him and headed to the backyard to see his mom and brother.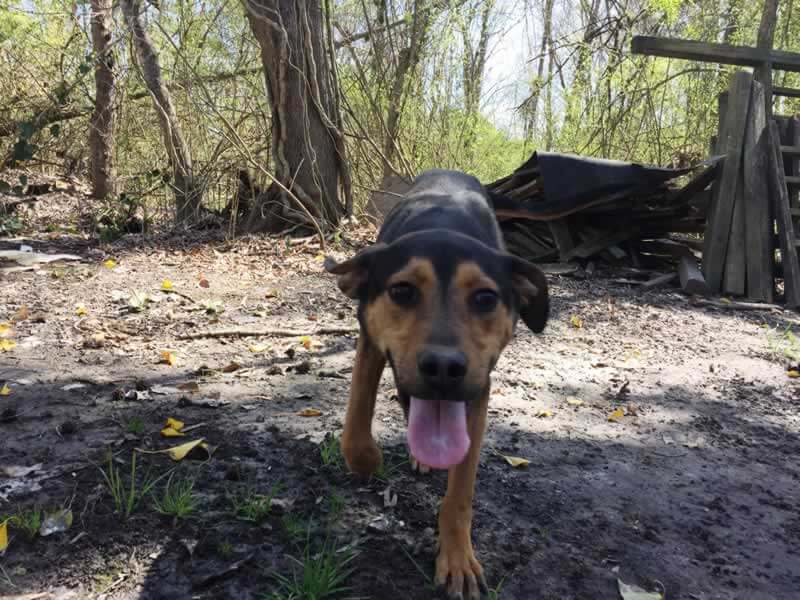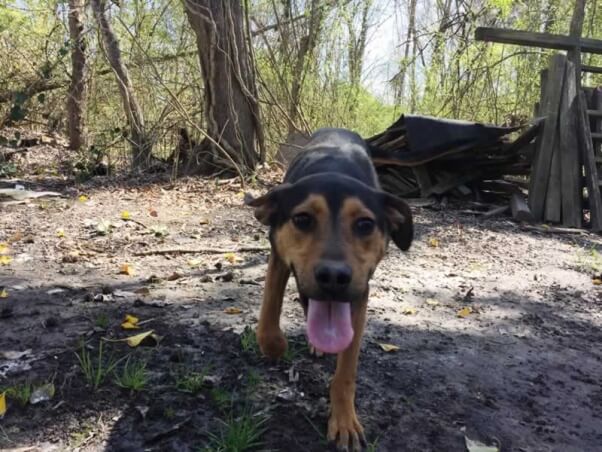 I was distraught by the filth and mud in which these dogs lived. Their legs were caked with mud because there was no dry land within reach of their chains. I ran over to the puppy still bound by his chain and his mother, who were next to each other but unable to touch, because their chains made that impossible. I felt so sad for the three dogs, who, for the rest of their lives, would be able to look at each other but never play, cuddle, or run together, because they were all tied in place.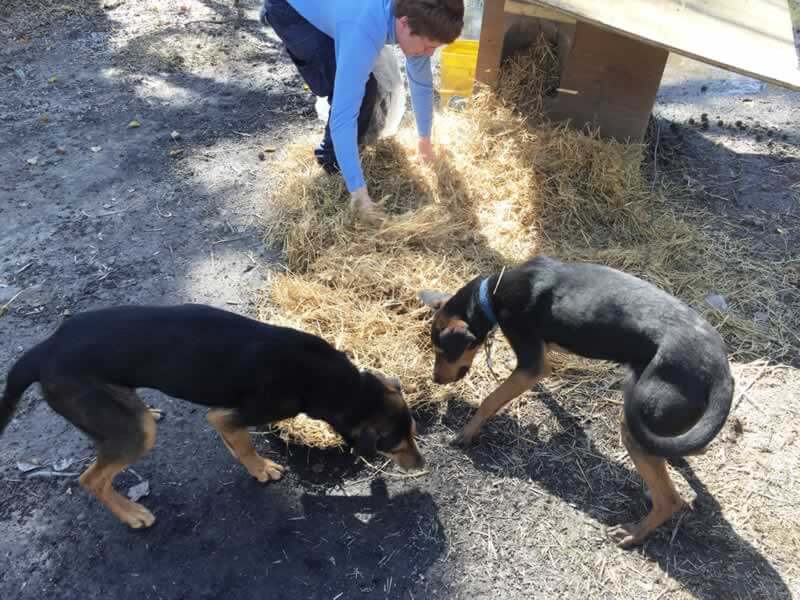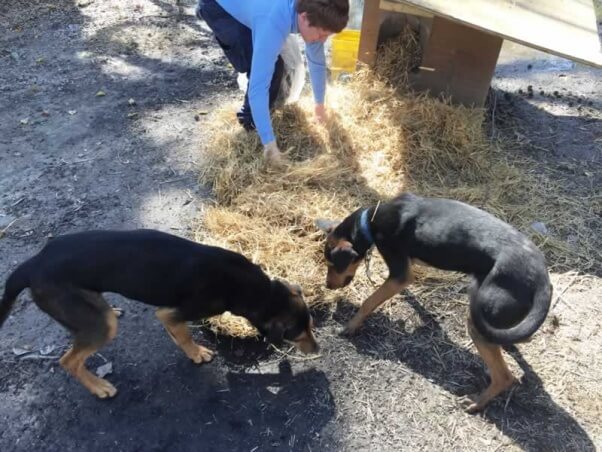 We gave each dog some straw bedding to soak up some of the muck and spare them from stepping in it, and we provided them with plenty of treats. As we were walking away, I felt that same empathy that Thomas had expressed earlier: I wished that those puppies (and their mother) had been given a chance at a happy home, as their siblings had been. The love and visits from PETA, though, would have to be enough for now.
Three Dogs
As was the case at so many of the other houses and trailers we visited, there were multiple dogs chained up in the backyard at this address, but these were entirely out of reach of one another and unable to interact.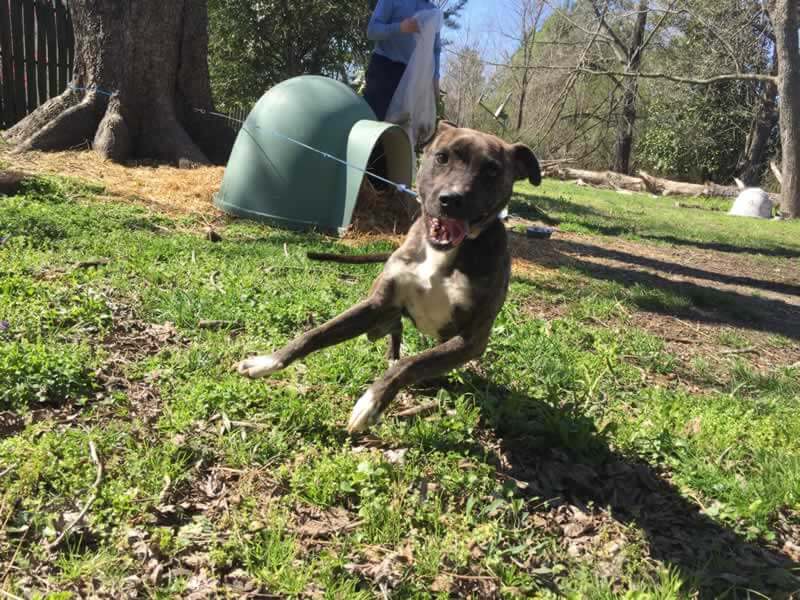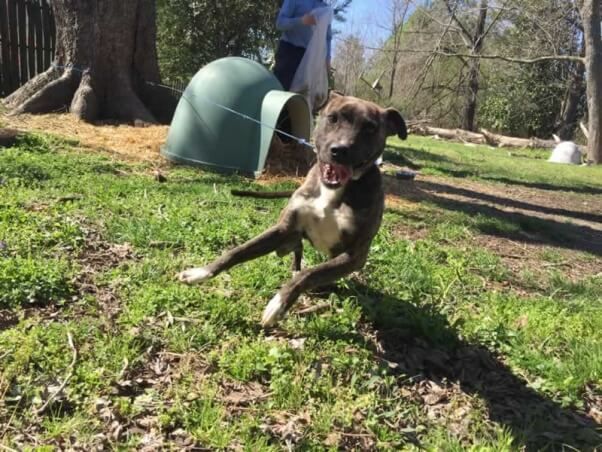 We called their guardian, who was not home, and he told us to go ahead and put straw down for the three dogs. We asked if he'd like us to spay or neuter any of the dogs—a service that we provide for free or at a low cost—but he replied that he (like so many others we asked) was planning to breed his dogs.
I so admire the PETA fieldworkers, because when they receive a response like this, they calmly explain why it's so important to spay and neuter, noting that up to 4 million animals are euthanized each year because of a lack of homes; that millions of others have to wait for days, months, or years in shelters before being adopted; and that sterilization reduces the risk of reproductive diseases. I, on the other hand, get frustrated when I encounter people who hear the evidence that spaying and neutering reduces animal suffering and still choose to contribute to the animal overpopulation crisis and jeopardize their animals' health.
We gave all three dogs LOTS of cuddles and kisses, along with handfuls of treats and straw to keep them warm before the weekend cold front blew in. As we were spreading straw in one dog's area (which had trash, including soft drink cans, scattered all over it), another dog came running right at us. Just as had happened at the previous property, one of the excited dogs had snapped her poorly made collar. This incident was much more dangerous, however, because this property was located on a busy road. Thomas moved very fast to catch this puppy. She was eager to get out of his arms and run free—since she'd been unable to do so while chained up—but we had to make sure that she was safe, so we kept this energetic girl in the van and called her guardian back. He instructed us to put her on the enclosed porch and said he would be back soon.
The dog was very unhappy to be confined to the porch while we were outside with the other dogs, and in her distress, she ended up pulling down a box of plates, breaking them. We got her out of the porch, and I took her around the property on what was probably her first (and maybe last) walk. She beamed with joy, and I can only imagine how exhilarating it was for her to be off that heavy chain for once.
Our walk was cut short when we got an emergency call about another dog who was sick with deadly parvovirus, and we had to leave immediately. I'll never forget that beautiful puppy's smiling, spotted face.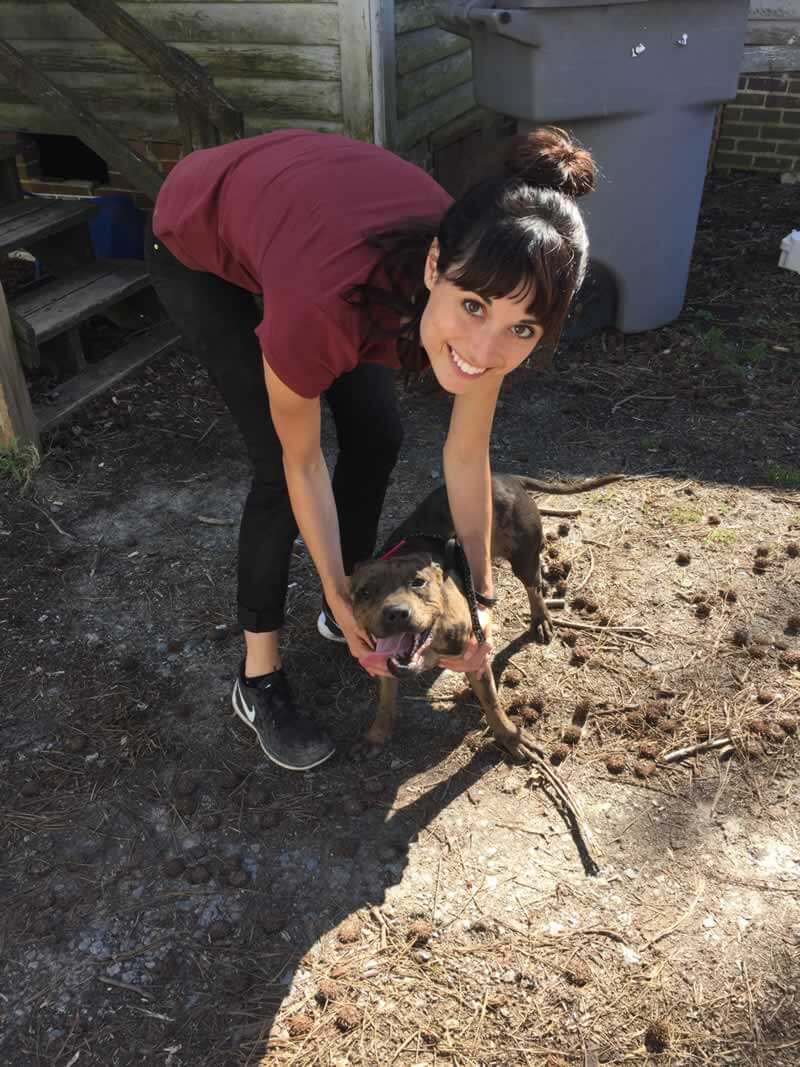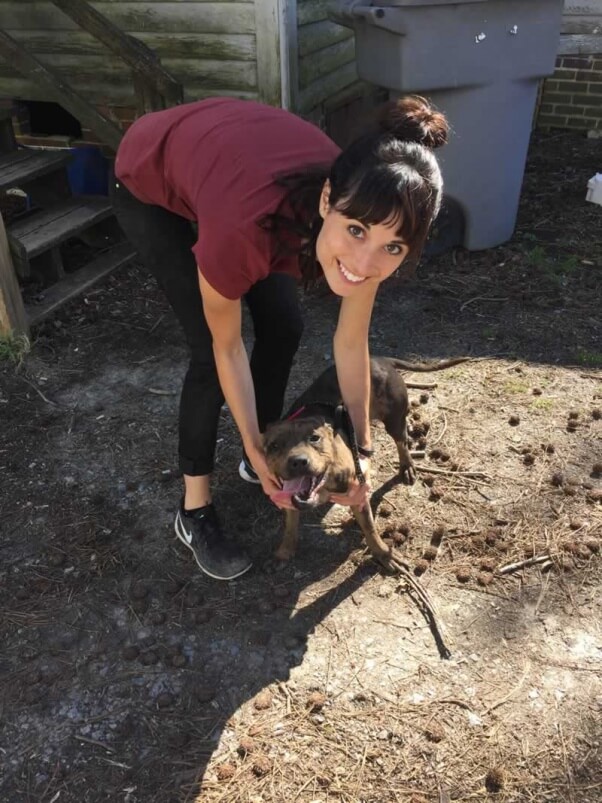 One of the most heartbreaking revelations I had on this trip was just how many animals suffer like this. I realized that I'd gotten only a tiny peek into the world of neglected "backyard dogs" and that while I would now resume my life of freedom and safety, the dogs were going to be forced to live in their deplorable conditions year after year, day in and day out, through heat, rain, and snow. This prompted me to ask myself, "What more can I do?"
If YOU would like to help, share this video about all the ways in which PETA's fieldworkers help animals:
Donate to PETA's doghouse project and help us give lonely "backyard dogs" like these a doghouse today.