Yesterday morning, a horse pulling a carriage in busy New York City traffic got spooked, collided with parked cars, flipped over the carriage, and became pinned under the wreckage. While the carriage driver screamed at the thrashing horse, Good Samaritans worked to free him by lifting up the carriage and cutting him loose from his traces. After being freed, the horse was able to walk under his own power, but witnesses reported that he appeared to be limping and bleeding from a wound on his leg.
DANGERS OF HORSE-DRAWN CARRIAGES: Jerry's collapse and death last month are tragic evidence that horses don't belong on sweltering, traffic-filled streets.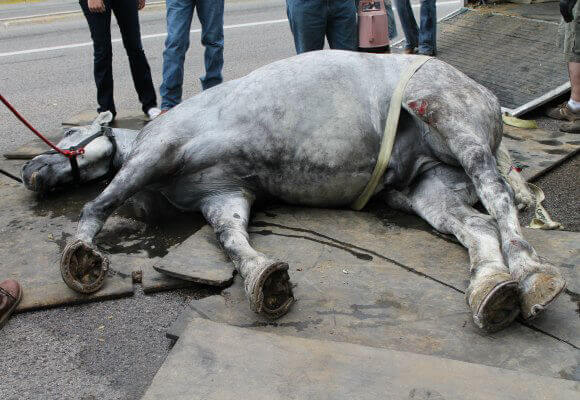 More than 18 accidents involving horse-drawn carriages have occurred in New York City in the past two years alone, putting horses, passengers, and bystanders at risk, which is why PETA, politicians, and many others want the carriages to be replaced with vintage electric cars. That move still needs more support in the City Council but is currently being held up by Council Speaker Christine Quinn.
What You Can Do
If you live in New York City, please contact your City Council member and ask him or her to support Intro. 86A, which would replace horse-drawn carriages with eco-friendly vintage cars.