Would you declaw your cat if the procedure were called "de-toe-ing" or a "toe amputation"? Jennifer Conrad, D.V.M., doesn't think you would. So she set out to reveal the truth about declawing in an effort to see it banned in America, as it has been in nearly two dozen other countries. Her 12-year battle against declawing is chronicled in an inspiring new documentary named after her anti-declawing organization, The Paw Project.
Declawing involves 10 separate, painful amputations. Each toe is amputated at the last joint, including the bones, tendons, and ligaments, not just the nail. It is a serious surgery, and complications include gangrene, permanent nerve damage, scar tissue formation, arthritis, bone chips, and abnormal regrowth of the nail.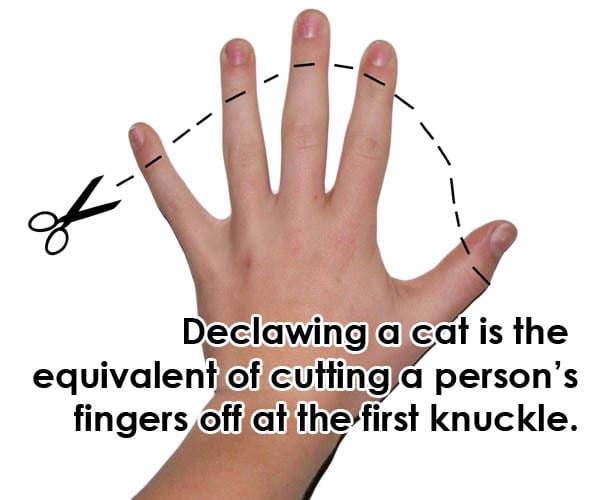 Dr. Conrad first noticed the adverse effects of declawing in the captive big cats she was treating, and the film contains heartbreaking footage of cats large and small attempting to walk on their painfully deformed feet.
In addition to physical scars, declawed cats can also develop behavioral problems, including urinating outside the litterbox (proving that there's more than one way to ruin the furniture). Declawed cats may also become depressed, reclusive, and withdrawn or irritable, aggressive, and unpredictable.
Declawed by his previous owner, Teddy developed litterbox issues after surgery.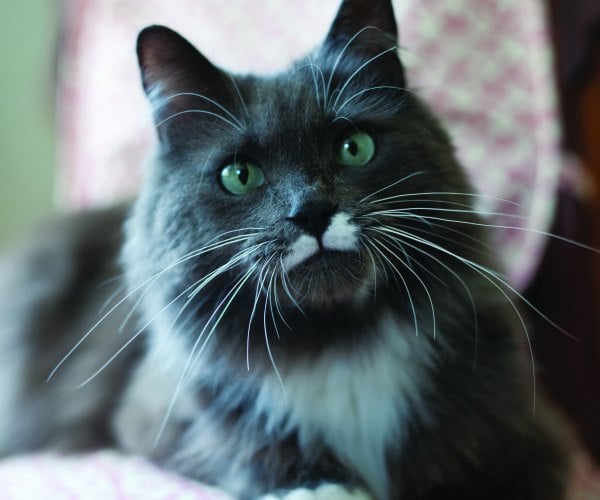 © Kencredible
A study published in the Journal of the American Veterinary Medical Association reported that 33 percent of declawed cats developed at least one behavioral problem and 80 percent had more than one medical complication. Perhaps because of these complications, contrary to the claims of declawing proponents, declawed cats are actually more likely to be surrendered to shelters.
"Why would anyone want to declaw a cat?" asks a baffled lawmaker in the film. Good question.
Dr. Conrad's group spearheaded the landmark declawing ban in West Hollywood, California, 10 years ago, as well as subsequent bans in Berkeley, Beverly Hills, Burbank, Culver City, Los Angeles, San Francisco, and Santa Monica, California. Hopefully, after people see this powerful movie, more cities will follow suit.
What You Can Do
Never declaw a cat, and tell every cat guardian you know about the dangers. Round up all your friends and go see The Paw Project. It will be officially premiering this month in New York City on September 27. For more screening dates and locations, visit PawProject.org.