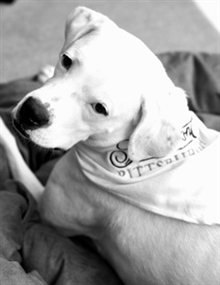 © Kaitlin Bledsoe
The hotel Fairmont Pittsburgh has one very popular employee—a sweet mixed-breed dog named Edie. Edie is the hotel's "canine ambassador," greeting guests and providing comfort for those missing their own animal companions, and she does a wonderful job—people make appointments to get time with the lovable, jolly dog. 
Her plush bed and chef-prepared treats are a far cry from Edie's beginnings. She was found wandering the streets, homeless and starving, her broken tail a silent testimony to a painful past. Edie was taken to a local animal shelter where her irrepressibly joyful demeanor instantly attracted the attention of the director of an organization that teaches dogs "job" skills. Just a little more than a year later, the sweet dog with the crooked tail whom no one wanted is beloved by travelers from around the world. When she's not on the job, Edie relaxes at home with her guardian, who also works at the hotel.
Every day, PETA's Community Animal Project (CAP) rescues dogs like Edie from life on the streets. To help us give more dogs a happy ending, please consider a donation to CAP. And if your home is ready for its own canine ambassador, visit your local shelter to meet the many "Edies" ready for adoption.   
 
Written by Michelle Sherrow