PETA entities worldwide are offering a reward of up to $15,000 for information leading to the arrest and conviction of the man who is shown luring a squirrel with food and then kicking the animal into the air above the Grand Canyon, as seen in a now infamous YouTube video. PETA entities in Europe are also involved in the hunt for this person, as are PETA U.S.' Canadian members, since the perpetrator is thought to be French or French Canadian.
https://www.youtube.com/watch?v=A6xilmNIA9s
It is imperative that this man and his accomplice be caught, since they will almost certainly commit more violent crimes against animals and humans if they aren't stopped. Perhaps they already have. Psychiatrists, FBI profilers, and law-enforcement officials have repeatedly documented that people who are cruel to animals are likely to turn that violence against humans. A study conducted by Northeastern University and the Massachusetts SPCA found that people who abuse animals are five times more likely to commit violent crimes against humans.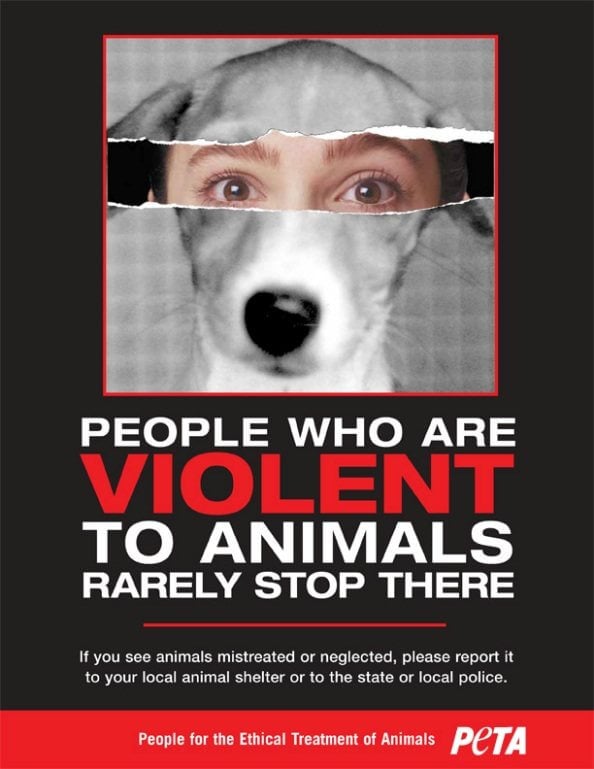 PETA and other animal protection groups sought the apprehension of Luka Rocco Magnotta after he allegedly posted videos of himself torturing and killing kittens. He was finally arrested after allegedly posting a video of himself killing and dismembering his lover. Virtually every known serial killer, including Jeffrey Dahmer, Son of Sam, and the Boston Strangler, started out killing animals before moving on to human victims.
What You Can Do
To save animal and human lives, report every instance of cruelty to animals to authorities. Today's squirrel killer could be tomorrow's mass murderer.