The folks in PETA's Cruelty Investigations Department are looking for the cruel, cowardly individual who apparently forced this dog to fight, beat her, shot her in the chest, and left her tied to a tree by an extension cord earlier this week—and they need everyone's help!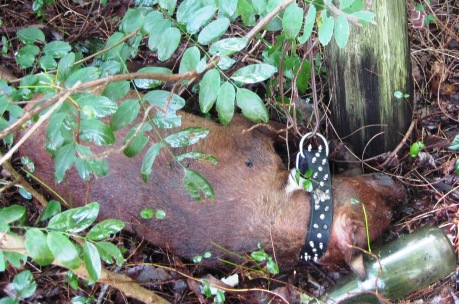 PETA is adding up to $3,000 to the Danville Area Humane Society's $2,000 reward for information leading to the arrest and conviction of whoever committed this violent crime. Fliers with the dog's photo and the words "DO YOU KNOW THIS DOG?" are also going up all around Danville, Virginia, where the animal was found covered in bruises and puncture wounds. Anyone with information about the case is urged to contact the Danville Area Humane Society.
This case is a reminder of why it's so vital to report cruelty to animals before it's too late. We can't undo this poor dog's suffering, but we might prevent other animals from meeting similar fates by keeping our eyes open for animals in need, being "nosy neighbors," trusting our instincts, and always alerting police and animal control officials right away if we know or suspect that animals are being abused or neglected.
Written by Lindsay Pollard-Post