I've never understood the whole carriage horse attraction. Setting aside the animal rights thing for a second, I just don't get how people could possibly construe riding around a loud busy city in a non-air-conditioned buggy while smelling horse crap the whole time as even the slightest bit romantic. I've always found it totally absurd. But believe it or not, that's not what this post is about . . .

Fund4Horses/Creative Commons
Last week a spooked horse used for carriage rides collided with a taxi cab in NYC, injuring the horse and taxi driver. Sadly, this isn't an isolated incident. Carriage and car collisions and other such accidents have occurred in nearly every location where horse-drawn carriages are allowed. The last one I heard about was last year when a horse was euthanized after bolting from his carriage and slamming into a station wagon—the driver received a fractured skull and a medically induced coma. You may remember that case because Martha Stewart's daughter, Alexis, jumped on it and brought some much needed attention to the issue. The same year, two other people were seriously injured in collisions, and one horse was repeatedly whipped after collapsing in Central Park—she died in her stall the next morning. Anyway, this latest incident—there have been more than 20 in the past 10 years—happened on July 4th, when a horse became spooked and ran into a taxi cab, resulting in lacerations of the horse's leg and hospitalization of the cab driver.
The harsh reality here is that as long as horses are forced to work in loud and busy city environments, these accidents will continue to happen regularly. And in addition to the clear danger it poses to people, the horses' hooves and legs suffer from constant pounding on hard pavement and the smoke and exhaust fumes from urban traffic can make them ill.
So, please take a moment to click here to join us in urging the New York City council to ban the outdated and cruel horse-drawn carriages that endanger animals, drivers, passengers, and pedestrians. Palm Beach, Fla., London, Paris, and Toronto have all banned carriage horses because of cruelty to animals, and it's time for New York City to join them.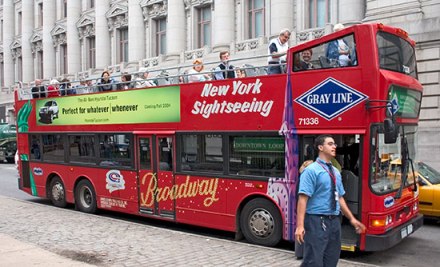 IneTours/Creative Commons
And don't worry about the tourists. They'll be fine. If they insist on sticking out like a sore thumb they can still take one of the super cheesy roof-top bus tours . . .