Cue the "8-week-old AKC German shepherd puppies" classified ads. A German shepherd named Rumor won the "Best in Show" Award at the Westminster Kennel Club Dog Show, and breeders and puppy mills are already preparing to churn out puppies, anxious to cash in on the coming breed craze. They'll even force mothers to mate with sons and daughters with fathers, in order to ensure that a particular trait remains in a dog's bloodline. The consequences can be dire: Incest increases the likelihood that recessive genes will be expressed and that serious congenital defects will be passed down to puppies.
One of the most debilitating defects that purebred German shepherds often suffer from is hip dysplasia. This genetic disorder causes the hip joint to rub and grind, resulting in immense pain. Puppies as young as 5 months old can develop the disorder, and as they age, it can lead to crippling, lameness, and painful arthritis. Some affected dogs lose the use of their hind legs.
Shelters already have tons of purebred German shepherds who were bought and then cast aside because of hip dysplasia—or any of the myriad other reasons that people give for dumping animals. And shelter workers know that in a few months, an onslaught of more abandoned German shepherds will begin.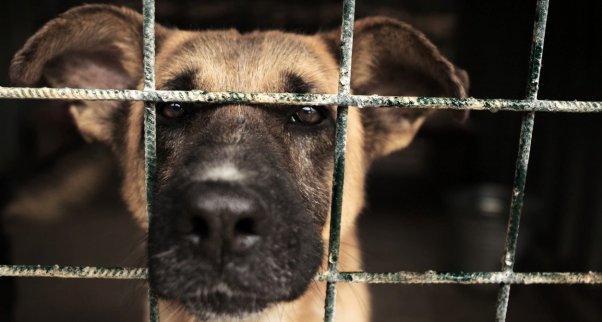 © iStock.com/yrjar78
These animals will start being surrendered when buyers who purchased them on a whim realize that German shepherds, like all puppies, chew on anything and everything when they're cutting teeth. My adopted German shepherd mix, Hannah, chewed up bras, stilettos, remote controls, sofa cushions, and favorite stuffed animals—all of which seem like acceptable chew toys to a dog with sore gums.
More will be abandoned when people start to see that big dogs mean big puddles, which are not so much fun to clean up during housetraining. Still more will arrive at shelters when the vaccination bills and food costs begin to add up—or when their owners try to move and the HOA won't accept that breed. Hannah and I know that story well: I joke that she chooses where we're going to live.
Because my girl is a mix, she's been healthy—and I've been lucky. But now, at 13, she gets much more use out of my credit card than I do.
In the wake of this latest dog show, PETA is launching a campaign to prevent German shepherds from being bred, only to be abandoned after they develop serious medical issues. We're encouraging everyone who gets swept up in the latest breed craze to consider adopting instead of buying. About 25 percent of dogs in shelters are "purebreds," and breed-specific rescues abound. Shelters are also full of one-of-a-kind originals: healthy animals with personalities as unique as their looks, all of whom desperately want a home and a family.
Rescued dogs get it. They've seen the world's ugliness. They know how lucky they are to have a home, and they'll spend their lives repaying their guardians for it. Hannah lets me cry into her fur, guards my bedroom doorway while I sleep, and, in the words of Bill Maher, "treats me like I'm the Beatles" every time I come home. And in the words of Mr. T, I pity the fool who fails to heed Hannah's "BAR-RAR-RAR-RAR" warning and crosses our threshold uninvited. She's protective, intuitive, and exceedingly loving. She's a rescue.