Update: Two weeks after PETA filed a complaint with the U.S. Fish and Wildlife Service (FWS) on behalf of Beam, an endangered sea turtle who was reportedly being held in deplorable, unhealthy conditions at the Idaho Aquarium, the agency seized the turtle. Based on information that PETA received from whistleblowers, the aquarium had been keeping Beam in conditions that likely violated the Endangered Species Act, and when the aquarium itself and cofounders Ammon Covino and Chris Conk pleaded guilty to felony illegal wildlife trafficking charges related to other animals, they automatically became disqualified to keep an endangered sea turtle. PETA leapt into action, pushing the FWS to seize Beam quickly. The agency cannot disclose the location to which Beam will be transferred, but it will be a facility that meets the new federal standards for keeping sea turtles, which provide the animals with a fair amount of protection.
The seedy roadside Mobile Zoo in Wilmer, Alabama, has at least 14 threatened gopher tortoises in its possession—several of whom were obtained from "unknown" sources. That means that they may well have been taken unlawfully from the wild.
If Mobile Zoo's director, John Hightower, did receive tortoises who were kidnapped from their natural environments, he likely violated the Endangered Species Act (ESA) and state regulations. So PETA has filed a complaint with the U.S. Fish and Wildlife Service (FWS) and the Alabama Department of Conservation and Natural Resources insisting that both agencies investigate and, if they find that the facility possesses unlawfully taken threatened species, seize the animals.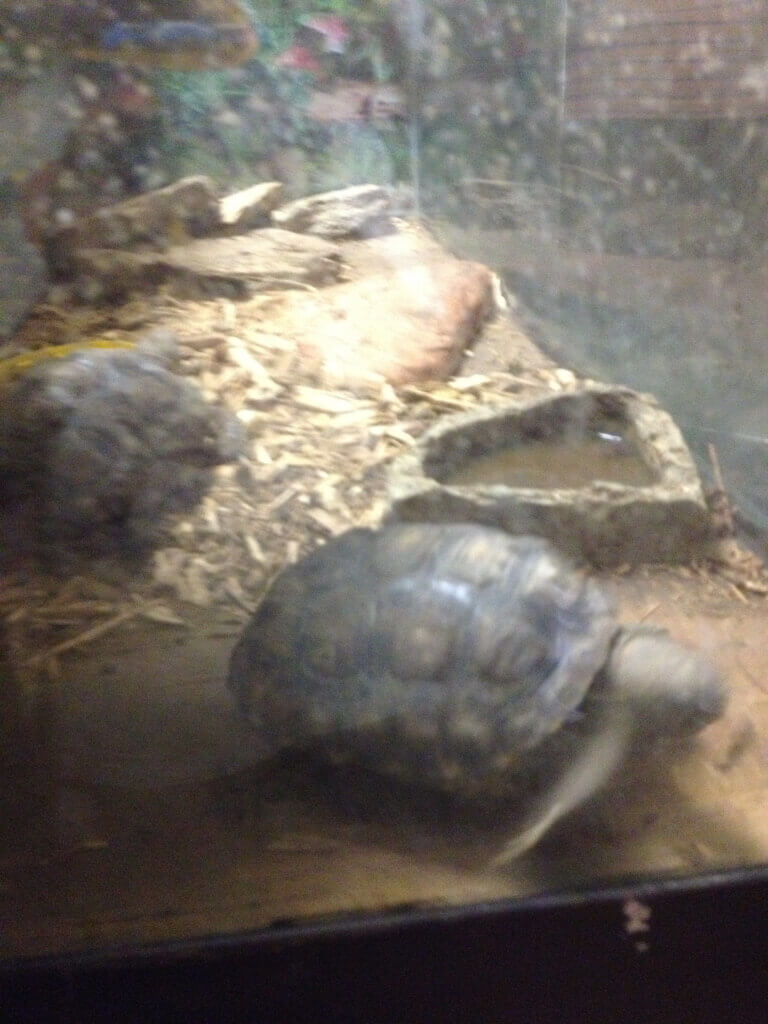 Help can't come soon enough for these tortoises. Following PETA's last complaint against the unaccredited zoo, the U.S. Department of Agriculture inspected the facility and slapped it with citations for 17 violations of the Animal Welfare Act, and a follow-up inspection found four additional violations. Photographic evidence that we obtained showed that Hightower is confining tortoises to a filthy glass tank with dirty water and no access to soil and earth in which to burrow. If these are the gopher tortoises, then it should be noted that burrowing is one of the defining aspects of their lives. They can burrow for dozens of feet.
Idaho Aquarium
Unfortunately, Hightower isn't the only one who appears to have handled protected reptiles illegally. According to whistleblowers, the Idaho Aquarium has held and displayed Beam, an endangered green sea turtle, in conditions that violate the ESA.
A whistleblower reports that the aquarium let Beam's tank water stagnate and let the nitrates and bacteria in it skyrocket to dangerous levels. Information provided by a whistleblower indicates that the aquarium has also denied Beam a proper diet. When he began to eat the sand in his enclosure, the facility was ordered to remove the sand, but the owners refused to do so for a long time, largely for aesthetic reasons, according to former aquarium employees. PETA has asked the FWS to investigate the Idaho Aquarium and, if there is enough evidence of violations, to seize Beam as well.