Written by Heather Faraid Drennan
What do dogs forced to live outside in all weather extremes long for? Being inside with their human "pack," of course. But when they are denied that basic opportunity, a sturdy doghouse stuffed with straw to help keep out the freezing winter weather can make a huge difference in these dogs' tiny backyard world. Tonka, a pit bull who recently received a PETA doghouse to replace the plastic barrel that had been his poor excuse for shelter (imagine it filled with rainwater and the cold wind blowing night after night all miserable winter long), was delighted with his new digs.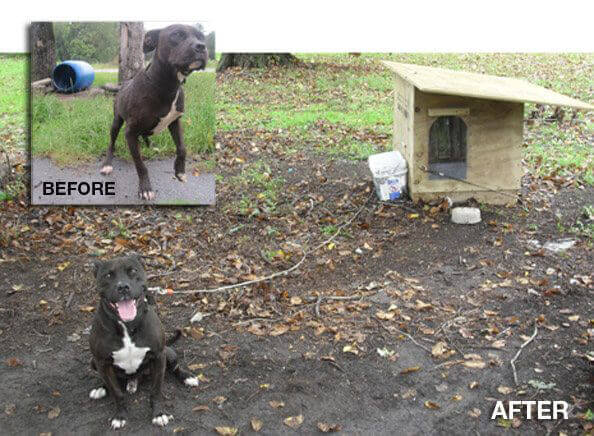 In addition to aiding sick, injured, and abused animals around the clock, PETA's Community Animal Project (CAP) delivers houses to dogs like Tonka in the area surrounding PETA's headquarters—southeast Virginia and northeastern North Carolina. CAP staffers check in regularly with the dogs to make sure that they have adequate food and clean water and talk with their owners about proper care. They also routinely deliver toys, treats, and, of course, love and affection to these neglected animals. Many doghouse recipients are also clients of PETA's mobile spay-and-neuter clinics and, therefore, will not be contributing to the homeless animal crisis.
Never pass by a "backyard dog" who doesn't have adequate shelter: Contact local animal-control officials immediately. Click here to make a donation to support the doghouse program and CAP's vital work to bring relief to neglected and abused animals.