This might make you blue, but red and white meat isn't green.
That's just as true halfway around the Earth as it is here. That's why these members of PETA Asia-Pacific went earthy from head to toe: to ask the folks in that part of the world to dump their Earth-wrecking addictions to meat.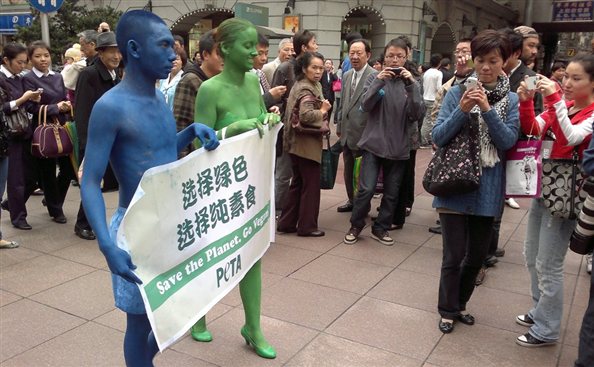 A leading contributor to climate change is the emission of greenhouse gasses such as carbon dioxide, methane, and nitrous oxide. Raising animals for food is one of the largest sources of carbon-dioxide emissions and the single largest source of both methane and nitrous-oxide emissions. We now use 30 percent of the Earth's land to raise animals for food. And the excrement-riddled runoff from factory farms pollutes our waterways more than all other industrial sources combined.
Now it's your turn. You know what I'm about to say: Go blue, go green, go vegan!
Written by Michelle Kretzer