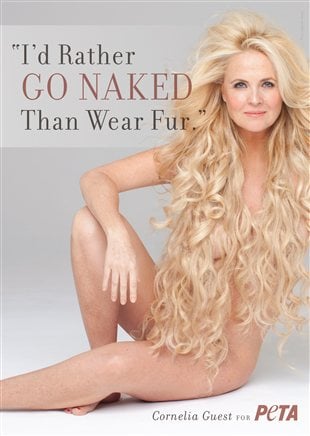 Photo: Gabrielle Revere
New York socialite and cruelty-free fashion connoisseur Cornelia Guest is taking her passion for helping animals to great lengths in a brand-new anti-fur ad for PETA:
Cornelia—who is the daughter of one of the best-dressed women of the 20th century, C.Z. Guest—used to wear fur, but she had a change of heart when she learned more about the heartless fur industry. Now, Cornelia shuns animal products of all kinds—she even launched her own line of nonleather handbags at Bloomingdale's.
At her birthday party on November 16, Cornelia will donate all her old furs to PETA, and she is encouraging her guests to do the same. PETA will mark the fur coats so that they can't be resold and will give them to the homeless so that they can be warmer this winter.
And for those of us who have ever wished for a guide to sophisticated vegan soirées, Cornelia has just finished a high-style vegan-entertaining book—replete with original recipes, decorating and party tips, and animal factoids—that will be published in May.
Follow Cornelia's compassionate lead and cleanse your closet of skins. Click here for PETA's guide to cruelty-free fashion.
Written by Heather Faraid Drennan