It's been nearly two months since earthquakes convulsed Syria and Turkey, killing, injuring, and displacing countless humans and other animals. The lifeline to dogs, cats, and other survivors, through the support of PETA's Global Compassion Fund, remains vital as an animal shelter in Syria struggles to cope—with few medications and surrounded by deep poverty—and a PETA entity team from Europe heads back to Antakya this week to help in Turkey.
Many Destitute Animals, Few Helpers
Turkey has long struggled with cat and dog overpopulation. In Antakya, pregnant cats are searching through the rubble to find a safe place to give birth. To survive, their kittens will have to learn to dodge traffic and scavenge through garbage dumps to fill their empty stomachs.
Our team is scooping up these pregnant cats as fast as they can. The nearest shelter is about four hours away, and it's at maximum capacity. And as most of Turkey is focused on rebuilding, local animal advocate partners are desperately working to build support to house rescued, homeless animals and abate this terrible crisis.
Rescuers from PETA entities in Europe are there now, racing against time to rescue more injured and pregnant animals and help our local partners deal with many challenges.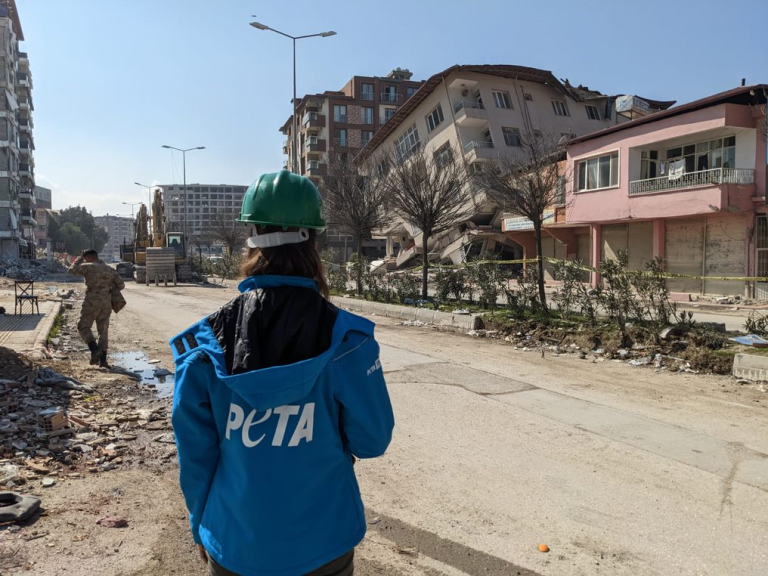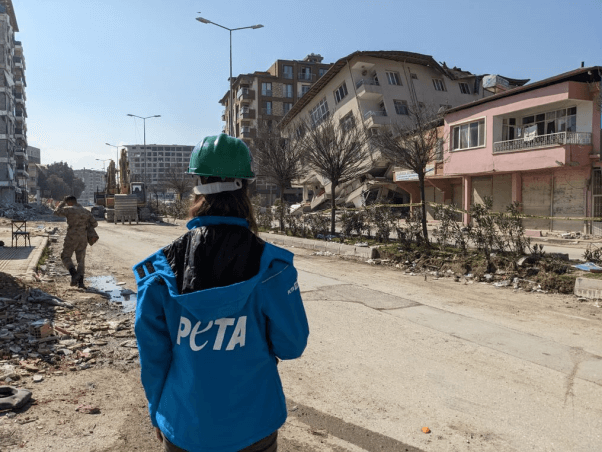 Teams supported by PETA's Global Compassion Fund have begun successful, worldwide spay/neuter programs, and now we're sterilizing animals affected by the earthquakes. Meanwhile, teams in other countries are attempting to persuade celebrities to speak out for those who need homes.
Rushing Aid to War-Torn Syria
In Syria, as much as the government wants parts of the country to be reopened to tourism, there are grave dangers and open hostilities, and countries are advising their citizens not to venture there. As Global Compassion Fund support reached a Syrian rescue organization, the results of a country marred by civil war showed in the ramshackle shelter we're trying to help and in the scarcity of volunteers willing to risk physical assault to save animals.
"We are mocked and humiliated on a daily basis during our missions, and volunteers are risking their life every single time they rescue animals. If a soldier doesn't like what you are doing or doesn't like how you answered their questions, they can easily shoot you down without any hesitation, with no accountability to anyone."

—A worker with a Syrian animal rescue organization backed by PETA's Global Compassion Fund
The risks haven't stopped the group from rescuing animals and establishing a makeshift shelter for those without homes. They still pull animals from the dust and debris—even now, nearly two months after the earthquakes—and help the survivors they find. They either provide what care they can on the spot or, if possible, arrange transport to Beirut for those who need surgery.
The shelter is in desperate need of repairs and medication, and in a country where corruption and chaos rule, getting money to the organization is no easy feat. But PETA's resolve has helped donor support to the Global Compassion Fund reach the team and power their brave fight for the animals.
How You Can Help Animals in Syria, Turkey, Ukraine, and Elsewhere!
Cats, dogs, and others in Syria, Turkey, and elsewhere need aid right now and for months and years to come. Your donation to PETA's Global Compassion Fund will support rescuers and provide care for animals who may not have any other hope.
Check Out the Latest Updates from the Rescue Team:
---
How to Help Animals in Turkey: Support the Global Compassion Fund
This latest crisis comes as PETA Germany and its partners in Ukraine are still actively helping abandoned and injured animals on the front lines of the war there, providing them with food and veterinary care. All such resources are supported by Global Compassion Fund donors.
Please don't wait—animals' lives are at stake. Your generous donation will give a real boost to rescuers who are helping animals in Syria, Turkey, and elsewhere around the globe.