Putting fur coats—donated by people who had a change of heart about wearing fur—to good use, PETA has teamed up with Life for Relief and Development, a humanitarian organization based in Michigan, to coordinate the distribution of more than 230 coats to survivors of the earthquake that hit Turkey and Syria. A magnitude 7.8 quake rocked cities across both countries in the early hours of February 6 and was followed by many aftershocks, leading to the deaths of more than 30,000 people and the displacement of hundreds of thousands more during the frigid winter months.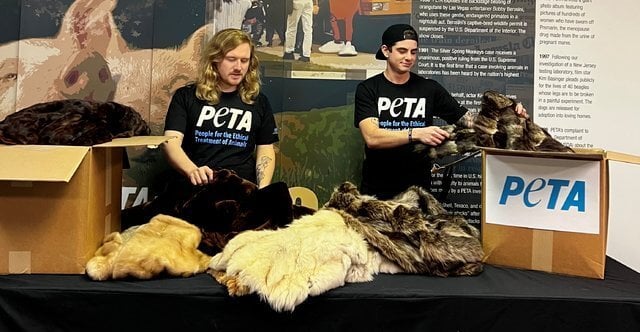 In the wake of the earthquakes—the deadliest seismic events in the world in more than a decade—Turkey's emergency management agency, AFAD, reportedly set up more than 70,000 tents to offer emergency shelter. Even so, the World Health Organization warns that survivors in remote areas risk freezing to death without electricity, food, water, or shelter.
PETA and Life for Relief and Development have worked together for more than 15 years, coordinating fur coat donations to people in need in Afghanistan, Iran, Iraq, Lebanon, and Pakistan. Now, our donated fur coats to Turkey-Syria earthquake survivors may save lives—a noble use for these objects, which were discarded by consumers who no longer found wearing them "fashionable" after learning about their ugly origin.
Most animals used for fur spend their lives confined to cramped cages, in which they frantically pace back and forth, gnaw on the bars, and mutilate themselves before they're electrocuted, gassed, or poisoned. Those who are trapped in their natural habitat may suffer for days before trappers arrive to shoot, strangle, beat, or stomp them to death.
PETA can't bring back the rabbits, minks, foxes, and other animals who were caged and electrocuted for their fur, but we can still help humans in desperate need.
We encourage people everywhere to donate their fur or fur-trimmed coats to help those who have few options in life—the only people with any excuse to wear them. Please clean out your closet and clear your conscience. Make a tax-deductible donation today by mailing us your unwanted furs.
Please remember: The earthquake is not only a catastrophe for humans but also for dogs, cats, and other animals left homeless, frightened, or injured, without humans to care for them and at risk of starvation. Every minute poses a struggle for survival for them, as many are wandering through the rubble while contending with untreated injuries and bone-chilling cold.
Rescue teams are on the ground in Turkey, and PETA's Global Compassion Fund is providing financial support.