N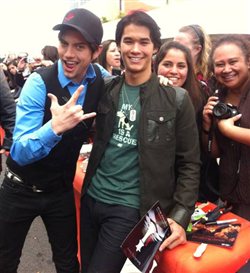 othing says "Thanksgiving" like People's Sexiest Man Alive announcement. This year, the magazine named Bradley Cooper, whose good looks are matched by his good heart. He counts as his greatest loves his rescued mixed-breed dogs.
Speaking of actors and their rescued pups, Booboo Stewart showed up at the Breaking Dawn tent city event wearing PETA's "My Dog Is a Rescue" T-shirt. Booboo is one of several PETA pals in the film, so feel free to use that as an excuse to go watch sexy vampires canoodle on the big screen.
Thanksgiving and football go together like Tofurky and gravy, which is probably what Dallas Cowboys starting fullback Tony Fiammetta will be eating during the holiday. Fiammetta recently switched to a healthy vegan diet, which he says makes him feel better both on and off the field.
Would you invite Bill Clinton to be your Thanksgiving menu consultant? Now that he's vegan and reportedly makes his own cream of asparagus soup, Ellen DeGeneres sought out the former president to sample her new vegan restaurant's menu.
Celebs were a-buzz on Twitter this week, including Megan Park and Carrie Ann Inaba, tweeting about their delicious vegan meals:
ForksOverKnives that is true! Thank you for shedding the light!!! We just had a veggie "sausage" pasta! It was delish!!!! Feeling good!
Other animal-friendly updates came from Emmanuelle Vaugier and Lexie Tomchek, both of whom shared anti-fur messages. Lovely ladies Angela Simmons and Simone Reyes posted several updates about a PETA event they attended at Uncle Rush's house.
And what better way to wrap up a Thanksgiving-themed celeb update than with a few words from longtime vegetarian Sarah Silverman?
Written by Heather Faraid Drennan