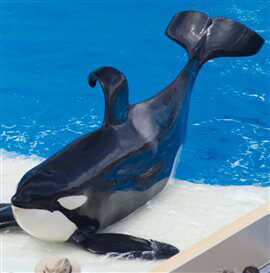 Collapsed dorsal fins are a symptom of the unnatural environment of captivity—they are rarely seen in the wild, usually in orcas who are injured or ill
Returning to the stand on day eight of the hearings regarding SeaWorld's challenge to OSHA rulings against SeaWorld, the company's "curator of animal training," Kelly Flaherty Clark, became visibly angered when government attorney John Black implied that SeaWorld makes substantive changes to its protocols only for PR purposes—rather than to protect trainer safety.
Black pointed out the differences between the responses to the incidents involving Dawn Brancheau and John Sillick and the incident involving Alexis Martinez. The incidents involving Brancheau and Sillick, who was crushed in 1987 when an orca landed on him while the trainer was in the water, both occurred with the public present and resulted in significant media attention and some changes to trainer-orca interactions. In contrast, Martinez's death occurred during a training session in Tenerife, Spain, at the hideous Loro Parque marine park, out of public view, and garnered little media attention on an island where tourism is king and Loro Parque is the big revenue generator. After Martinez's death, trainers at SeaWorld Orlando were pulled from the water for only a single day, and no changes to any training or safety procedures were made.
Entered into evidence were SeaWorld's "monthly recaps," including 60 pages of documents about Tilikum that included the heading "Aggressive Incidents" and detailed an incident in which a trainer lost control of Tilikum during a show. Tilikum started swimming in circles, and when called back, he "thrashed" toward the trainer—which Flaherty Clark demonstrated by showing her teeth. Flaherty Clark dismissed the recaps as "irrelevant." To whom?
Flaherty Clark was also questioned about a 1997 incident at the now-defunct SeaWorld Ohio in which trainer Kristine Van Oss was pulled into the water by her sweatshirt. The resulting incident report stated: "We hope that you plan to eventually desensitize all killer whales to work with you regardless of what you're wearing. You can't guarantee hair, apparel, or objects will never be within reach, so it's better to address the problem." Tilikum pulled Dawn Brancheau into the tank by her ponytail. 
Flaherty Clark confirmed that until Dawn Brancheau's death, every time trainers were pulled from the water following a serious incident, they were allowed back in. And every single time, another incident or injury occurred. 
When asked how water work is educational for audiences, a claim that SeaWorld makes because an educational purpose is required for the company to retain its federal permits to hold orcas, Flaherty Clark could not provide any information. No surprise.
Stay tuned.
Written by Jennifer O'Connor