Some years ago, when I interned at a sanctuary for farmed animals, I'd sit in the barn, and a turkey named Fern would back up into my lap and demand to be petted. When I'd stop, she'd look over her shoulder imploringly as if to say, "More, please." I always think of Fern at this time of year, when supermarket bins are filled with the frozen bodies of her relatives. If people got a chance to know these interesting and personable birds, I believe they'd balk at baking and eating their wings, legs, and breasts.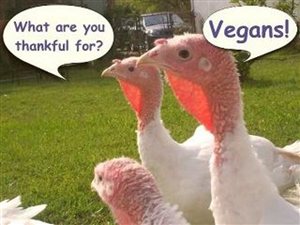 Turkeys on farmed-animal sanctuaries quickly prove themselves to be intelligent and industrious as well as outgoing at times and shy at other times, much like human children. Sitting in the barn, the birds' distinct personalities were immediately clear. Some, bold and hilarious, would walk right up and look me square in the eye as if to challenge my right to invade their space. Others, like a coy debutante, would peer over their shoulders, aloof but not wanting to miss anything exciting. Many, like Fern, would purr when petted.
This Thanksgiving, please take a moment to reflect: Can the fleeting pleasure of a meal justify the immeasurable pain and suffering of a bird who didn't want to die? Give turkeys like Fern a reason to purr. Stuff yourself with mashed potatoes, cranberries, pumpkin pie, and other vegan goodies and leave the birds alone.
Via Newsday
Written by Jennifer O'Connor