And no one came? That is, no one but a troupe of sign-waving animal defenders who re-enacted furriers' torturous treatment of animals—and got high fives from passersby.
Well, the Fur Council of Canada hosted a seminar yesterday at the Museum of Civilization in Ottawa about the future of the fur industry, covering topics such as (don't laugh) "Fur Is Green," the "Beautifully Canadian" campaign, and the activities of their fur foes. Other than Alan Herscovici, the executive vice president of the Fur Council of Canada, furriers were noticeably absent.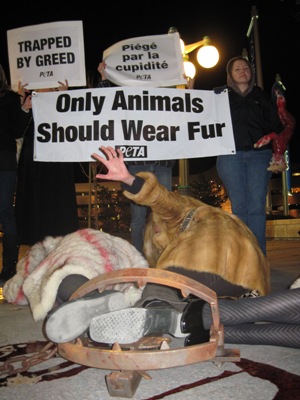 Is it possible that the reason why so few furriers attended the seminar was that they were confused because it was held at the Museum of Civilization? Or perhaps they were too busy trying to figure out what they could say if anyone asked about their gobsmackingly false claim that "fur is green"—rather than so obviously blood-red.
Seriously, this killing industry is dying out. Won't you get involved by passing out leaflets or educating your friends and family to help us speed up the process?
Written by Karin Bennett