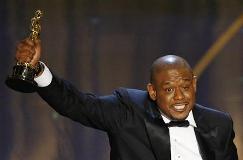 A triumphant Forest hoists the Best Actor award at the Academy Awards
My new favorite person in the entire world, Forest Whitaker. Forest won the Best Actor Oscar yesterday for his breathtaking portrayal of Idi Amin in The Last King of Scotland. I've written about Forest a couple of times before, but given what this guy has accomplished in the last year, I don't think a few more plaudits are out of place. After putting together an utterly riveting performance in Last King (which he prepared for by traveling to Uganda to meet Amin's friends and family, and learning a bit of Swahili for good measure), last night he became the fourth black performer to win the Best Actor Oscar, following in the footsteps of Sidney Poitier, Denzel Washington, and Jamie Foxx. And of course, he's particularly dear to our hearts here at PETA because both he and his daughter True are outspoken vegetarians and animal lovers. If you haven't seen the "veggie testimonial" Forest and True recorded for us recently, you should definitely check it out.
We've also got a little contest running at the moment, where you can win three of Forest's best-known films, so click the button below to check that out if you're itching to get caught up on the Forest oeuvre, now that he's officially the best male performer in Hollywood. Anyway, congratulations, Forest—it's so great to see someone with such compassion and genuine kindness recognized for their achievements.