Frances McDormand just keeps winning. She was named Best Actress four times in one awards season—at the Screen Actors Guild Awards, the Golden Globes, and the Oscars, as well as in PETA's first-ever animal-friendly film awards, the Oscats—for her performance in Three Billboards Outside Ebbing, Missouri. She's on a roll. But it was her acceptance speech at the 90th Academy Awards that really started a conversation in the entertainment industry.
Best Actress Frances McDormand asks all the female nominees to stand at the #Oscars, calls for an inclusion rider https://t.co/RuqvtKMvWx pic.twitter.com/jbFHN4kHrT

— Hollywood Reporter (@THR) March 5, 2018
McDormand used her platform to encourage A-listers in Hollywood to use a little-known provision called an inclusion rider during contract negotiations. It's a stipulation added to a contract to help ensure diversity among a film's cast and crew.
We couldn't agree more that this is needed, as it's well past time for Hollywood to embrace diversity of all kinds. That's why PETA is urging actors, producers, directors, and everyone else in the entertainment industry to take McDormand up on her suggestion but then to go one step further. Like her, we also have two words for Hollywood: exclusion rider.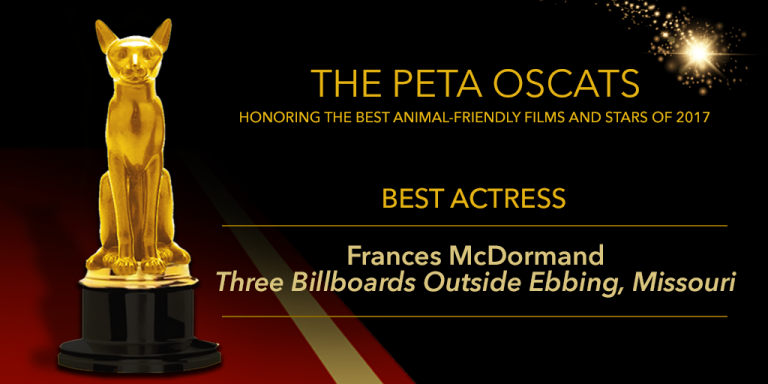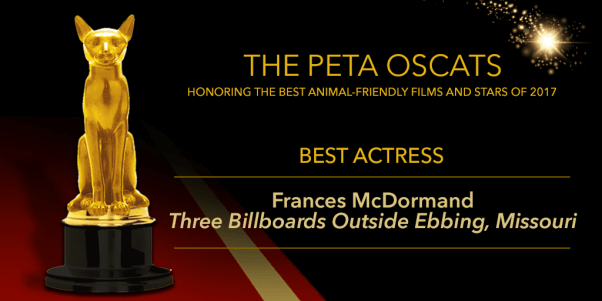 Film and television need as many diverse human stories and faces on the silver screen as possible (and behind the scenes, too), but there's one group of individuals who should never be seen on a Hollywood set: live animals. Many of this year's award nominees proved just that by employing stunning computer-generated imagery (CGI) in place of live animals. Using CGI not only offers an opportunity to have more diverse human talent but also allows for more versatility in scenes. Most importantly, it eliminates animal abuse and neglect both on and off set.
For these reasons, PETA encourages all actors to stipulate during contract negotiations that they have an inclusion rider and an exclusion rider: No live animals should be used in the film's production—only CGI.
Forcing Live Animals to 'Act' Is a Flop
Transportation, excessive handling, and film and TV sets—with their bright lights, loud noises, and boisterous crowds—are very stressful to animals. Not only is life stressful for those who are hauled from set to set, their living conditions are also typically abysmal.
The anguish of animals used in film and on TV starts well before they endure substandard living conditions and training methods that are often abusive. They're typically torn away from their mothers shortly after birth—a heartbreaking trauma from which many never recover—and are deprived of everything that's natural and important to them.
You may remember the controversy that erupted last year when footage from the set of the film A Dog's Purpose appeared to show an animal handler forcing a terrified German shepherd into the waters of an intensely swirling pool. That incident came as no surprise to anyone familiar with the chronic neglect uncovered at leading Hollywood animal supplier Birds & Animals Unlimited (BAU)—the company that supplied the dog used in the film.
At BAU, PETA's eyewitness found that an owl was being kept in a feces-strewn enclosure that went uncleaned for at least six weeks, an emaciated pig was denied veterinary care to treat bloody sores, and dogs were living in kennels with concrete floors and no bedding, despite temperatures that dropped into the low 40s, among other troubling conditions.
Other animals were denied food so that they would be hungry while being trained to do tricks or so that they would lose weight in order to meet film producers' casting requirements. PETA's eyewitness found that two cats, Gus and Nibbs, were virtually starved for several days because a trainer said that they were "fat." They lost 5 percent of their bodyweight in just five days.
Big cats, especially, are known to have been trained through food deprivation, fear, and punishment with whips, as was brought to light in PETA's eyewitness exposé of former Bowmanville Zoo owner Michael Hackenberger, who was caught on camera viciously beating a young Siberian tiger named Uno during a "training session." Before he was charged with five counts of cruelty to animals (and before the closing of the Bowmanville Zoo), he supplied animals to TV and movie productions, including Life of Pi.
Let's Get Abuse Like This Excluded From Hollywood Productions
You don't have to win an Oscar to help others. Pledge to avoid contributing to the cruel practice of using animals for entertainment by not buying tickets to any production that features them.
Then speak out against the use of animals in film and on TV by sharing this post with your friends, family, and social media followers.