Why must every American president shoot the obligatory "and here I am chowing down on a burger" photograph? Best bet? To please the meat lobby and because of the old-fashioned idea of what "being American" is all about: no falafel; it's red meat and guns for me. Mr. Obama is no exception, often deliberately choosing hot dogs and burgers for his photo ops with visiting heads of state.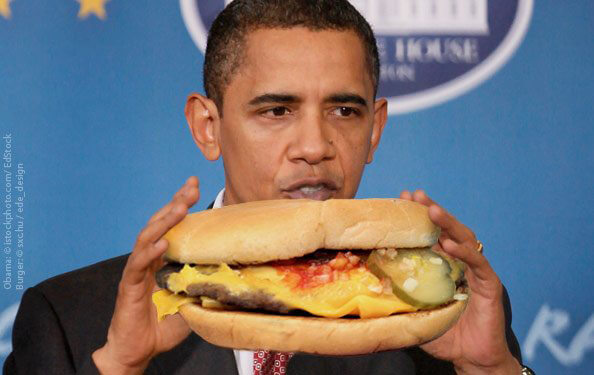 Well, the Physicians Committee for Responsible Medicine (PCRM) has taken the POTUS to task for promoting foods that are known to contribute to the obesity epidemic in the U.S. and that have been linked to cancer. PCRM has started a petition asking the White House to ban staged photos that show the president, the first family, the vice president, or the president's Cabinet eating unhealthy foods such as processed meats.
"The White House would never set up a photo op showing the president buying cigarettes, so why is it okay to show him eating a hot dog?" asked Susan Levin, PCRM's nutrition education director.
You can sign the petition and ask the pres to set a good example for Americans by eating healthy food. Some Obama Oatmeal With Presidential Peaches sounds nice.

PETA promotes and educates the public on the benefits of a vegetarian diet. PETA does not directly or indirectly participate in any political campaign on behalf of or in opposition to any candidate for public office.