PETA has sent Compassionate Legislator Awards to members of the Margate, Florida, City Commission for unanimously voting to ban bullhooks, electric prods, and other cruel devices specifically designed to inflict pain on animals. The move means that the Cole Bros. Circus, which has visited Margate in the past and whose handlers have been caught on tape beating elephants with bullhooks, should be barred from bringing elephants into the city in the future.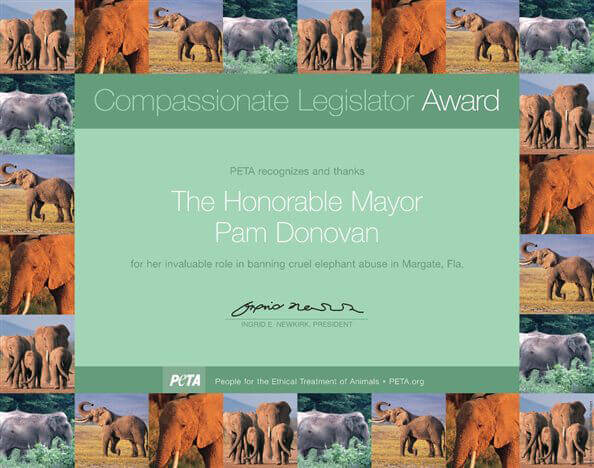 The sharp metal hook and tip on the end of a bullhook can rip elephants' skin and leave bloody wounds and abscesses. The tricks that animals in circuses and traveling shows are forced to perform go against their natural instincts, which is why handlers must beat them into submission. When not performing, animals in circuses spend most of their lives caged or chained in trailers and railroad boxcars while traveling from city to city.
Cities and counties all across the country have enacted bans or restrictions against shows that hurt and exploit animals. You can help by contacting your own local officials to ask them to initiate proceedings to do the same. E-mail our Action Team for help getting started.