The U.S. Fish and Wildlife Service (FWS) is supposed to enforce laws that protect endangered animals. So why did the agency allegedly issue illegal permits to the notorious Tarzan Zerbini Circus to allow it to export and re-import two endangered Asian elephants for use on the circus's Canadian tour?
PETA filed a lawsuit against the FWS, because we believe that this permit approval violates the Endangered Species Act (ESA), the Administrative Procedure Act, and the FWS' own regulations.
Although the FWS can legally grant exceptions to the ESA when applicants demonstrate that the activity for which a permit is sought will help a species survive, it has allowed the Tarzan Zerbini Circus to take advantage of its unlawful "pay to play" policy—through which applicants can donate as little as $500 to a conservation organization in lieu of proving that otherwise illegal activities will benefit endangered animals. This outrageous loophole must be closed.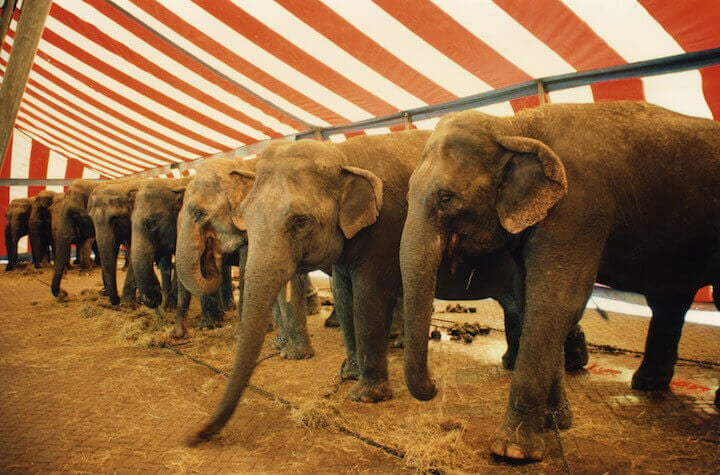 The FWS is also considering an application submitted by the Dallas Zoo, the Henry Doorly Zoo and Aquarium, and the Sedgwick County Zoo to import 18 wild elephants captured from game parks in Swaziland, Africa, even though separating the elephants from their closely knit families to be put on display in zoos is ethically indefensible. PETA has joined other animal-protection groups to call on the agency to prioritize these animals' well-being and throw the zoos' bid to import them straight into the paper shredder.
FWS officials aren't the only ones failing animals: Instead of shutting it down, the U.S. Department of Agriculture continues to cite roadside zoo (and inaptly named) Summer Wind Farms Sanctuary for violations of the Animal Welfare Act (AWA)—the facility had 13 violations in the past month alone and was cited 98 times last year. Recent citations include housing two young brown bears in a filthy enclosure filled with wet and soiled bedding and feces and feeding adult brown bears "brown, shriveled and discolored" fruit, which may have caused the diarrhea inspectors saw in the enclosures. The facility's owner was cited for killing a skunk and a fox with improper techniques that "can result in prolonged animal suffering and undue distress."