There are a million and one reasons to anticipate the upcoming film Solo: A Star Wars Story, but the casting of Donald Glover as a young Lando Calrissian is probably at the top of that list. As if we couldn't swoon over the comedic/rapping/acting/writing/soul-singing genius any more than we already do, images of Solo in circulation show that Glover wears a faux-fur coat that even had us fooled!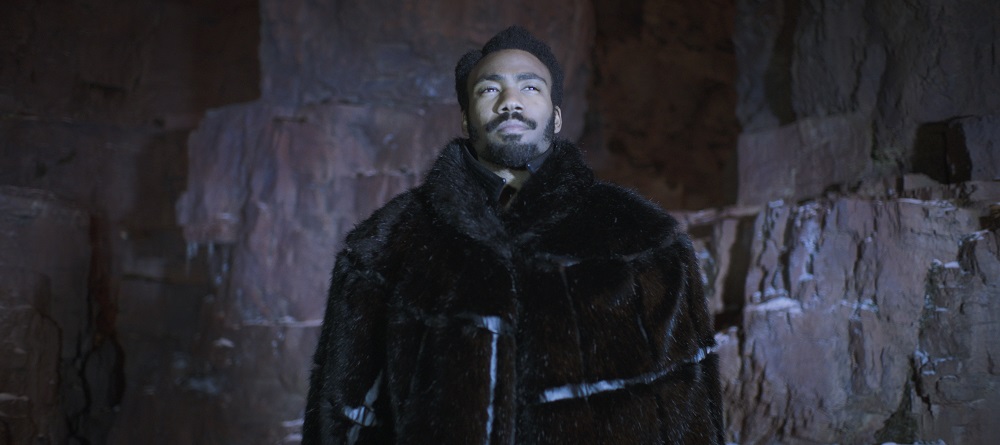 Lucasfilm Ltd.
When the trailer dropped, PETA contacted the producers to ask about Lando's coat. We confirmed that it's indeed faux! Given the strong animal rights themes in past Star Wars movies, we couldn't imagine that the franchise would ever use something as sadistic as fur, but we had to check nonetheless—which brings us to a salient point:
Why does anyone choose to wear animal fur?
Not to grandstand too much here, but if anyone knows the fur industry, it's PETA. On numerous occasions, we've seen—up close and personal—that animals on fur farms are confined to cramped, filthy wire cages for their entire lives and eventually killed by the cheapest methods available, including suffocation, anal or vaginal electrocution, gassing, and poisoning. If we can't know for sure whether a coat was made with animal skin without a thorough inspection, then neither can anyone else. Lando's coat in the film shows viewers how realistic alternatives to fur are demonstrating that the real thing is not just cruel but also completely unnecessary. Serious props are in order to Lucasfilm for proving that looks can kill without killing animals.
Let's End Fur Farming Everywhere
If dogs or cats in the United States were abused as hideously as animals typically killed for their fur, everyone involved would be imprisoned on felony cruelty-to-animals charges. Killing sentient beings for something as trivial as a piece of clothing simply has no place in modern society.
Surely, we don't have to wait until 3005 for a fur-free world. We can all take action against animal abusers right now with our wallets. Always buy cruelty-free jackets and other items, and leave dead animals' skins out of your closet.