Koko, the gorilla famous for having learned American Sign Language, has died. This social and intelligent primate spent her entire life in involuntary service, mostly isolated from her own kind. Born in the San Francisco Zoo in 1971 and moved to The Gorilla Foundation a few years later, she often signed the word "baby," carried gorilla dolls in her arms, and gently caressed her companion kittens. Gorillas are among the most dedicated and nurturing of mothers. In the wild, Koko could have known the joy of motherhood.
Gorillas enjoy highly social multifaceted relationships. Their lives revolve around their families. These keenly intelligent primates are quiet and peaceful. They grieve and have been documented holding wakes for lost loved ones.
Koko, a gorilla who lived in captivity, without others of her kind, loved "Ball," a kitten.

Koko's intelligence & sensitivity taught humans a lesson about otherness.

Ball was let out & was killed by a car, another lesson for humans. Koko cried. Now, it's our turn. RIP. pic.twitter.com/RH0Rj3Vo7R

— Ingrid Newkirk (@IngridNewkirk) June 21, 2018
In captivity, virtually everything that gives their lives meaning is lost. Captive gorillas can become profoundly depressed.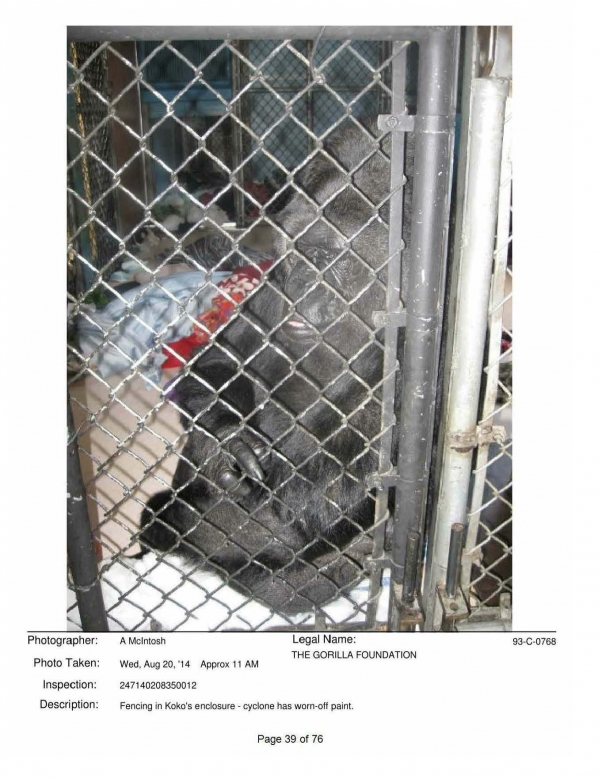 Over the years, The Gorilla Foundation was cited numerous times by the U.S. Department of Agriculture (USDA) for its deteriorating facilities and improper veterinary care for Koko. In one alarming instance in 2014, she was described as not feeling well and was said to be unwilling to use her legs and to have reduced function in one of her arms but wasn't examined by a veterinarian.
The foundation was slapped with an official warning after the USDA found violations relating to its failure to clean its facility adequately during six different inspections.
Koko is survived by Ndume, who has also lived in isolation from his own kind, other than occasional contact with Koko through cage bars. He now deserves to be transferred to an accredited facility—where he can have the opportunity to socialize with other gorillas—without delay.
To pay real homage to Koko, to do something in her memory that helps others kept in captivity, please think of her before sharing captive-animal memes on social media, and recall the sacrifices that the animals in them make in order for us to have a quick laugh or a light-hearted moment.