Yesterday, Oregon's Washington County Board of Commissioners voted to ban exotic animals. The new ordinance prohibits exotic animals as well as direct contact between them and members of the public within unincorporated Washington County—just another sign that the public is turning away from businesses that exploit animals.
The ordinance defines "exotic animals" as wild and exotic cats and bears who are not indigenous to Oregon, all nonhuman primates, crocodilians, and non-wolf members of the family Canidae who are neither indigenous to Oregon nor domestic dogs.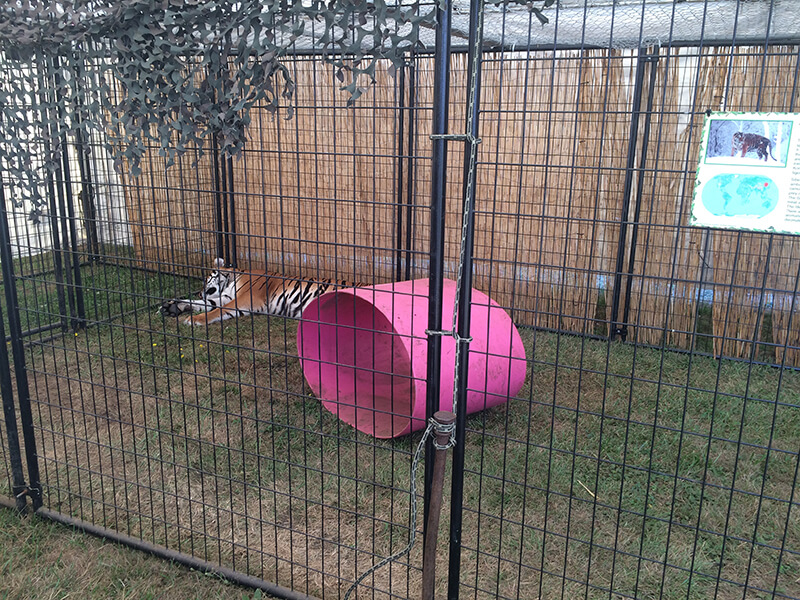 PETA supported this ordinance at every stage. We submitted written comments and even arranged for members and supporters to speak at meetings. We also contacted A Walk on the Wild Side—a local shoddy roadside zoo—to offer to facilitate the transfers of its animals to reputable sanctuaries.
Despite being cited by the U.S. Department of Agriculture for the illegal transfer of newborn wild cats two years in a row, A Walk on the Wild Side has still been condemning animals to a life on display at fairs and public events. Owner Steven Higgs has also been cited for illegally transporting two 3-week-old bobcats from Florida as well as for keeping animals in unsafe enclosures and having inadequate perimeter fencing around dangerous animals.
https://twitter.com/peta/status/1006234816579284994
Our longstanding offer to transfer the animals held captive at this facility to reputable sanctuaries has been denied multiple times—Higgs demanded that we stop contacting him, and his lawyer has never responded. Higgs now has 90 days to relocate the exotic animals held captive at his facility. Our offer to help still stands.
Help Us Help These Animals
Click on the button below to tell A Walk on the Wild Side to stop exhibiting wild animals and urge it to retire the animals at its facility to reputable sanctuaries: