When little Pokey's family moved away, they simply left the malnourished, close-to-death puppy in the yard like an old sofa—except that sofas don't get scared, go hungry or thirsty, or suffer and die when you turn your back on them, never to return.
Although Pokey was about 7 months old, she was as small as a 3-month-old pup, her growth stunted from bad food, inadequate rations, and illness. She was covered in mange so severe that she also suffered from a serious secondary infection, and her skin was painful, cracked, bleeding, and oozing pus. She was also loaded with intestinal parasites, ticks and fleas ravaged her body and sucked her blood, and she was suffering from anemia, her gums white as chalk.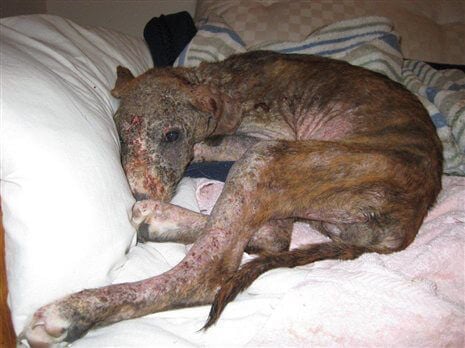 Thankfully, a compassionate area resident reported Pokey to PETA. We immediately responded, snatched Pokey up, rushed her to the vet, and got her started on treatment for her multitude of health issues. In order to be taken outside, Pokey had to be wrapped in a blanket to avoid hurting her super-tender skin. The only way to show her any affection without hurting her was to kiss the tip of her nose.
Despite days of intensive treatment and being showered with love, Pokey's condition deteriorated, and the veterinarian said that the most humane option was to free the puppy from her suffering. One of her rescuers said: "I held the little girl until her last breath. She was very strong, but not strong enough to deal with the hand life dealt her."
PETA is pressing for criminal abandonment and cruelty-to-animals charges against Pokey's owners. If you hear of an animal in need, please don't let him or her suffer another minute. Call your local animal control agency or humane society, and if that doesn't work, contact PETA for help.
Written by Michelle Sherrow