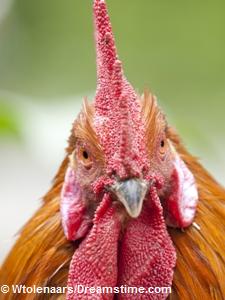 The latest issue of PETA's Animal Times magazine just rolled off the presses, and the PETA Files is offering you a sneak peak inside. In addition to campaign news and updates, investigative reports, and tasty recipes, this issue includes an exclusive excerpt from PETA President Ingrid E. Newkirk's latest book, The PETA Practical Guide to Animal Rights. In this excerpt, Ingrid talks about a personable rooster named Lucie, who changed the lives of the family that had the good fortune to adopt him:
---
A man selling chicks under a bridge sold Lucie for a dollar to a little girl. … She put him … in the basement in a shoe box with air holes and a tissue for a blanket …. The next day, the girl's mother Barbara Munroe, realized that the chick was freezing. She made a bed in her night table drawer …. Finally, Lucie went to sleep.
Barbara took to carrying Lucie around in her hand. He always wanted to be with people. "The most amazing thing to me," says Barbara, "was the way Lucie adapted to suburban life, sitting in a car like a perfect gentleman or on the sofa while the family read or watched television."
. . .
When Barbara would come home from work, she often saw Lucie sitting on the back of a chair in an upstairs window, watching for her. By the time that she got in, he was down in the kitchen, jumping up and down, greeting her.
If people in the house raised their voices, Lucie chimed in loudly. It was almost impossible to shout over him, and usually everyone ended up laughing.
Barbara's daughter kept her bedroom door closed. Lucie hated that …. Every once in awhile, the girl forgot to close the door. Lucie would run in and jump on her bed but remain very quiet, so as not to alert her.
All chickens have the potential of Lucie or more, if allowed to live a natural life—by which I mean, not confined to a tiny wire cage or to a filthy, ammonia-filled shed crammed in with thousands of other birds. The same is true of all animals we think of as "food." It is just that we never get to know them. 
---
Want more? An annual subscription to Animal Times can be yours for just $16. What a bargain!
Written by Alisa Mullins