PETA Latino recognizes and celebrates the Urbáez family for keeping their dog, Max, with them during their journey from Venezuela to the U.S.
Anabel and Crisman Urbáez, with their two children and Max, made the long and strenuous trip through 10 countries over the course of two months, seeking asylum. The journey was already difficult—at one point taking them on a four-day trek through the jungles of northern Colombia and leaving them sleeping on cardboard at others—and many times they were denied access to transportation and shelter because they wanted to keep their dog with them.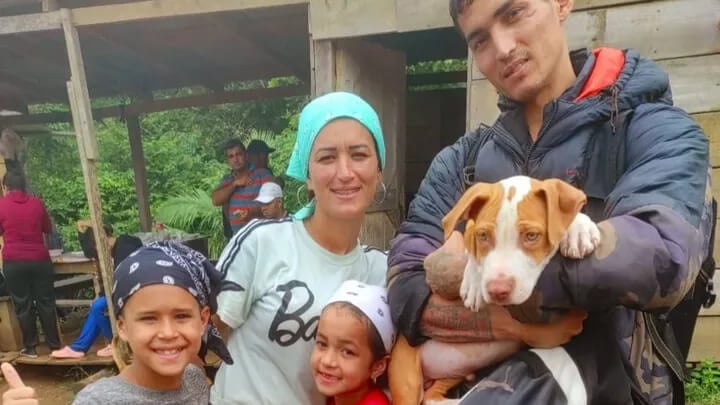 At the border between North and Central America, U.S. border agents told them to leave Max behind.
"I just couldn't," Anabel told CNN reporters when describing the encounter. "Not after everything he's gone through with our family."
Thankfully, another officer had already heard about the Urbáezes' saga of traveling with Max and coordinated his transfer to a local animal shelter, securing the family's reunion with him later.
And so, with a lot of determination and luck, the Urbáezes were able to relocate from Venezuela to a New York City shelter without leaving Max behind. It should never have been this hard, but we're thrilled that they never faltered in their commitment to Max. Companion animals are significant members of our families. We're as important to them as they are to us. Leaving them behind for our own safety—alone, sad, afraid, and without familiar faces—is a choice that humans should never have to face.
PETA Latino Helped Refugee Families Stay Together
Keeping refugee families together is vital work. Following reports that Mexico's plan to evacuate its citizens from war-torn Ukraine wouldn't include companion animals, PETA Latino rushed a letter to Foreign Secretary Marcelo Ebrard Casaubón, urging him to reconsider and allow animals to accompany their families—and it worked! Mexican citizens fleeing the war were allowed to evacuate with their animal companions.
Support Animals Like Max and Their Families
PETA's Global Compassion Fund supports rapid-response rescue work and relief programs and extends our vital work for animals into communities around the world.