When a PETA supporter saw a picture posted on Facebook of a cat whose face was being eaten away by ulcers, she knew that she had to act. Her speedy investigation revealed that the cat was living at an auto mechanic's shop and that even though animal control had been called, the cat was still suffering. That's when she called PETA.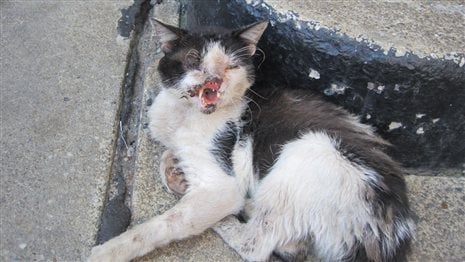 When we contacted animal control officials, they said that they had required the mechanic to take the cat to a veterinarian. But alarmingly, the veterinarian had refused to euthanize the cat, saying that he would be better off dying at home. Hearing this, PETA's Community Animal Project dropped everything and went to find the cat.
He was in miserable condition—weak, emaciated, matted, infested with fleas, and in the advanced stages of terminal feline leukemia. We convinced the mechanic to let us give the cat a peaceful release from his unrelenting suffering.
If you ever suspect that an animal is suffering, don't hesitate—make the call! Don't assume that someone else will take care of the problem—make sure that someone does by being that someone.
Written by Michelle Sherrow