In a letter sent today, PETA is demanding a face-to-face meeting with one of the head honchos at the National Institutes of Health (NIH) because the agency has once again shown that it can't—or won't—comply with its own rules on basic, minimum standards of animal care in its laboratories.
PETA has obtained federal case reports, dated from January 4 to May 19, 2022, documenting 17 violations of federal animal welfare guidelines in NIH's intramural laboratories. These violations are just the latest in a growing mountain of misery that has been piling up for decades in NIH laboratories—where PETA uncovered a staggering 120 violations over the past three years.
From February 2020 to March 2022, we sent NIH brass three letters requesting that the agency get off its backside and do something to correct the systemic rot in its laboratories. Nothing has been done. This time, we've requested a meeting with Nina F. Schor, acting deputy director for intramural research.
Despite our multiple objections, NIH officials have refused to take meaningful steps to end the neglect and incompetence that's right under their noses.
The most recent violations include the following:
Numerous animals died of dehydration or starvation due to staff incompetence or neglect, including one incident in which chickens were left without food. Two of the birds starved to death, two had to be euthanized, and three others were left lethargic.
Experimenters went rogue on multiple occasions, performing unapproved procedures. For example, one experimenter knowingly performed 38 unapproved surgeries, didn't give the animals post-op pain medication, and then apparently tried to cover his tracks before his despicable actions were finally discovered months later.
In several cases, experimenters used animals beyond what their bodies could endure—yet still didn't end their suffering. In one instance, eight mice were subjected to a brain-injection experiment without adequate pain medication. They were supposed to be euthanized after two days but were still alive up to three weeks after the procedure.
PETA has asked numerous times for NIH officials to hold experimenters accountable for the myriad violations in the agency's own laboratories, where employees could not—or would not—meet even the basic, minimum standards of care for animals. Clearly, nothing has changed.
Feeble assurances of bolstered training, updated operating procedures, enhanced oversight, discussions with staff, and experimenters' apologies have been insufficient to address the wholesale failure to provide animals in NIH laboratories with even a modicum of protection.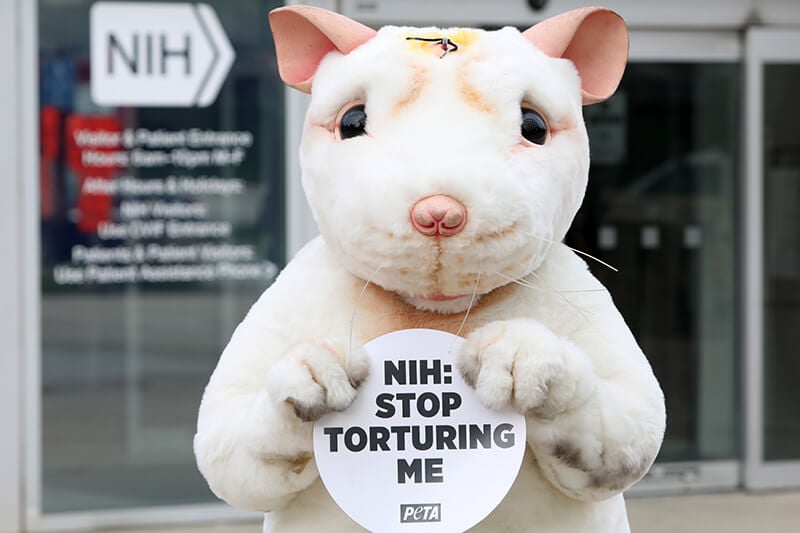 Meaningful actions must be taken in order to end this ongoing abuse and flagrant violation of federal animal welfare guidelines. Rogue experimenters who perform unapproved surgeries or experiments or who fail to comply with veterinary staff directives must be fired. Staff who fail to provide animals with necessities such as food, water, and safe shelter must also be fired. And fundamentally, the agency must pull itself out of the mire of pointless, archaic experiments on animals and implement modern, human-relevant research methods, such as organs-on-chips, organoids, bioinformatics, and 3-D tissue printing.
For an agency that devoured $43 billion in taxpayer funds last year, it simply should not be too much to ask that animals in NIH laboratories be fed regularly, provided with fresh water, and housed safely.
Yet here we are again.
What You Can Do
Please take a minute to urge President Joe Biden to appoint a new, forward-thinking NIH director who practices modern science and opposes experiments on animals.