We've talked about Moshe Solomonow a bit before. He was a candidate for Vivisector of the Week a few weeks ago (he lost, in a last-second upset, to a deceased monkey butcher named Thomas Langfitt), and his other accomplishments include performing invasive back surgery on cats without, apparently, using proper anaesthetics … for the past fifteen years. Well, if you've checked out the main feature on the PETA website in the past couple of days, you'll know that the latest on Moshe and his pals at the UC Denver and Health Sciences Center is an entire litany of complaints from a whistleblower about shoddy animal welfare practices, neglect, and outright cruelty in their labs. Here are some of the things these folks have allegedly been up to over the past few years:
Failing to provide veterinary care or euthanasia in emergencies
Failing to properly train animal care employees
Improperly reviewing experimental procedures
Skimping on anaesthesia during painful surgeries
Leaving a monkey with a prolapsed colon to suffer for hours
Killing a conscious rabbit with a heart puncture
And the list goes on—to the tune of a 30-page complaint that we just submitted to the NIH, gently suggesting that they have a look into the way these people are spending their money.
Rabbit with skin lesions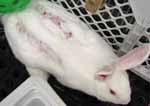 If you'd like to write to University of Colorado's president about his labs, you can do so through the form on this page. We're asking them to dismiss their Animal Care and Use Committee (these folks were supposed to be checking up to make sure there weren't any violations in the animal labs—I guess they spent their time playing minesweeper instead, or maybe keeping up with Us Weekly), and to ban ol' Moshe from ever using animals in research again.