The Emmy Awards are coming up this Sunday, and there are a few nominees that we're going to be rooting for in particular here at PETA. It's a little cruel and unusual of FOX to put three hours of must-see television on, when they know that I will have just spent the entire day struggling through 12 different football games on NFL Sunday Ticket, but duty is duty, and I will be there for the awards. Here are the actors I'm going to be pulling for:
Alec Baldwin
Nominated for: Outstanding Lead Actor in a Comedy Series for 30 Rock
Alec has been an outspoken champion for animal rights throughout his career. PETA's slaughterhouse investigation video, Meet Your Meat, which Alec Baldwin narrated for us, has inspired thousands of people to stop eating animals.
Edie Falco
Nominated for: Outstanding Lead Actress in a Drama Series for The Sopranos
Edie Falco narrated and stared in our anti-violence PSA, to remind people that cruelty to animals needs to be taken seriously—both for the animals' sake, and because it invariably leads to violence against humans.
Simon Cowell
Nominated for: Outstanding Reality-competition Program for American Idol
Simon Cowell has spoken out on a number of issues on behalf of animals. Most recently, he starred in our Hot Dog PSA, to raise awareness about the dangers of leaving dogs in hot cars, and he also did this beautiful ad to point out that if you like animals, you probably shouldn't frickin' wear them.
William Shatner
Nominated for: Outstanding Supporting Actor in a Drama Series for Boston Legal
William Shatner, who has been amazing in Boston Legal the past few years, is a longtime PETA supporter. Among the many things Shatner has done to help animals, he wrote the introduction to Ingrid Newkirk's Making Kind Choices, and he also narrated our PSA about looking out for animals during natural disasters. The guy was also Captain Kirk, for God's sake. He should get an Emmy by default.
Katherine Heigl
Nominated for: Outstanding Supporting Actress in a Drama for Grey's Anatomy
Katherine Heigl came through for us in a big way this year when she signed our petition to help cats and dogs in California via the Healthy Pets Act. (I would be remiss if I didn't point out here that she is also just really astoundingly attractive.)
Bill Maher
Nominated for: Outstanding Variety, Music, or Comedy Series and Outstanding Writing for a Variety, Music or Comedy Program for Real Time With Bill Maher
In addition to being one of the funniest people in America, Bill Maher has worked with PETA on pretty much every animal issue there is. Here's one of my favorite ads with him: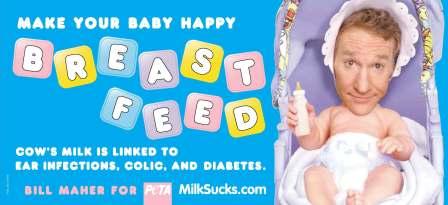 Good luck at the Emmys, guys! And thanks for everything that you do for animals.