Talking about the cosmetics company here. e.l.f. Stands for "Eyes, Lips, Face," and these guys are pretty rad. In addition to selling 100 percent cruelty-free cosmetics, e.l.f. have teamed up with PETA for a promotion to help draw attention to our fur campaign. They made these handy little tweezers with a faux-leather case so that their customers can be "fur-free" too, and they also released the following statement:
"Millions of fur-bearing animals including foxes, raccoons, minks, coyotes, bobcats, beavers, muskrats, otters, and others are killed in the wild by excruciating beatings, strangling, and electrocutions. e.l.f. does not test on animals and supports PETA in the Fur Free campaign."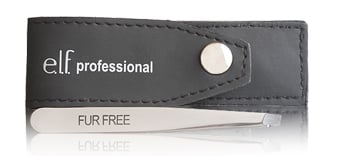 Thanks, folks. If I ever have occasion to wear makeup, e.l.f. will be the first place I look. My friend and colleague Mylie—who presumably knows a whole lot about makeup, since she spends the bulk of her salary every month on black lipstick—wants you to know that we're running a contest right now to win a prize pack from the company, which you can check out here.