In the last three years alone, at least 20 K9 officers—and possibly more—have suffered agonizing and entirely preventable deaths after being left in patrol cars on hot days.
To prevent more dogs from dying in vehicles this summer, PETA is urging the National Association of Police Organizations, the National Police Canine Association, the American Police Canine Association, and other K9 officer organizations to endorse the installment of innovative heat-alert systems in patrol cars, so that when temperatures inside the vehicles climb and these systems are activated, they sound an alarm, page an officer, attempt to start the car's engine, and automatically roll down windows, potentially saving dogs' lives.
PETA designed posters for K9 units to display in their offices to serve as a reminder to human officers that the heat inside vehicles can reach dangerous and even deadly levels in just minutes.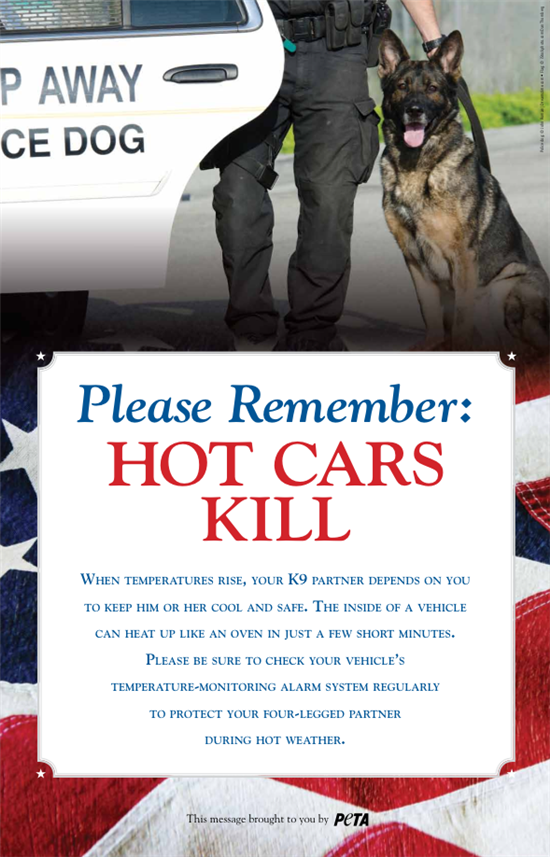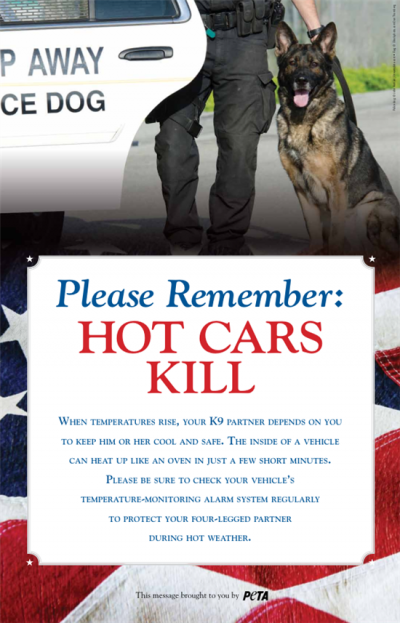 Hot cars are death traps for dogs, who can only cool themselves by panting and sweating through their footpads. On a 78-degree day, the temperature inside a parked car can soar to between 100 and 120 degrees in just minutes, and on a 90-degree day, the interior temperature can reach as high as 160 degrees in less than 10 minutes.
In Georgia, K9 officer Sasha died from heat exhaustion after her handler left her in his SUV over the weekend. Sasha clawed through parts of the seats, bit through seatbelts, and tore off the rear view mirror in her frantic attempt to escape the vehicle. Last year in Louisiana, U.S. Air Force Security K9 Caro died from heatstroke after he was left inside his handler's vehicle for two hours on a 95-degree day. And in South Carolina, K9 officer Emma died from heat exhaustion after she was left inside her handler's vehicle for about 90 minutes—although the car was running, the air conditioning had malfunctioned.
Heat-alert systems are already in place in agencies across the country, including Los Angeles, Philadelphia, Phoenix, Pittsburgh, and Chesapeake, Virginia—where an officer told PETA, "Our canine partners are extremely valued members of our department. … We make every effort to provide the best possible care and protection of our partners."
We hope that police and K9 agencies everywhere will join PETA in promoting the protection of these brave and loyal dogs by making sure these lifesaving systems are installed in every single K9 patrol car.