Sanofi, a drugmaker based in France, relied on the results of a long-discredited near-drowning experiment on animals in developing a drug for obesity that was later implicated in the deaths of several people.
The pharmaceutical company is among a diminishing number refusing to ban the cruel forced swim test, in which small animals swim for their lives in inescapable containers of water—supposedly as a model for human depression. Sanofi's tragic history shows why this test is a mistake.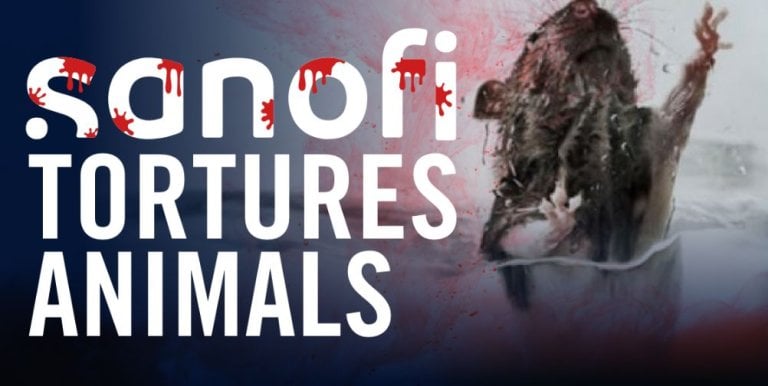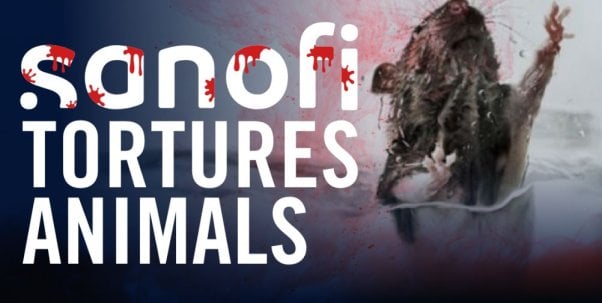 © NZAVS
Bogus Science and Suicide
Sanofi developed a new drug to treat obesity in the early 2000s called rimonabant. As part of its testing, the company subjected mice and rats to the forced swim test. Results showed that the drug had antidepressant-like qualities in these nonhuman test subjects.
The drug was approved as a human obesity treatment in Europe in 2006 and in Brazil a year later—but there were problems.
In clinical trials, human patients on rimonabant showed an increased risk of depression and suicide. The U.S. Food and Drug Administration (FDA) denied its approval in this country over safety concerns.
As reported by NBC News, "After about a year, four people on rimonabant had killed themselves, versus one person in the placebo group. There were also nine attempted suicides in people on rimonabant, compared with five among those on placebo."
Sanofi knew it, too. It had found "serious psychiatric side-effects" in 232 people using rimonabant, compared with 120 who received a placebo.
European regulators pulled the drug off the market.
Forced Swim Test Explained
In the forced swim test, experimenters put small animals—often dosed with drugs such as rimonabant—in inescapable containers of water. The panicked animals try to escape, scratching and clawing at the sides of the containers or diving underwater in search of an exit. They paddle furiously, trying to keep their heads above water. Eventually, after reaching the point of exhaustion, they stop paddling and simply float.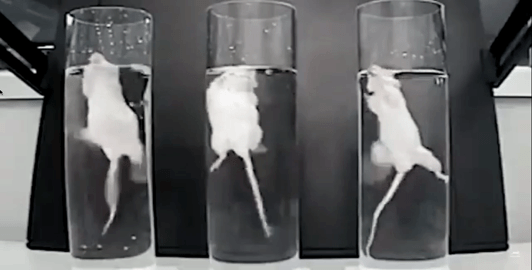 Some experimenters interpret the animals' floating as "giving up," which purportedly models human depression. So they claim the test gauges the efficacy of antidepressants. It's every bit as ridiculous as it sounds.
This claim has now been debunked. Studies show that the forced swim test is less predictive of a drug's effect than a coin toss—and PETA is determined to end this cruel experiment.
After talks with PETA, more than a dozen companies—including Johnson & Johnson, Bayer, GlaxoSmithKline, AbbVie Inc., Roche, AstraZeneca, Novo Nordisk A/S, Boehringer Ingelheim, Pfizer, and Bristol Myers Squibb—announced that they would no longer conduct (or fund someone else to conduct) the forced swim test. In addition, after hearing from us, the FDA confirmed that the test isn't required for pharmaceutical testing.
We knew it was bad for mice, hamsters, rats, and other tiny animals. Now we know it can be dangerous for humans, too.
How did this happen?
Sanofi's Deep Roots in Bad Science
Why is Sanofi clinging to the forced swim test? In 1999, the company acquired Synthélabo, a smaller French pharmaceutical firm, which … guess what … was where the forced swim test—along with its "dry version," the tail suspension test—was developed in the 1970s! Experimenter Roger Porsolt and his colleagues used a variety of containers—including a blue plastic baby pool—in their efforts to convince mice they were drowning.
Perhaps—like a toxic relationship—the company's history with the forced swim test contributes to its refusal to leave it behind.
What You Can Do
PETA has repeatedly tried to engage Sanofi in discussions to ban the test. The company has refused.
Please take action to urge Sanofi to join some of the world's largest pharmaceutical companies in banning this worthless and dangerous test.