Last Labor Day weekend, Buddy and Copper were among the dogs sitting in barren, filthy cages at animal testing hellhole Professional Laboratory and Research Services, Inc. (PLRS). But this Labor Day weekend, the two friends are rolling in the grass, playing with other dogs, and being loved and petted at Kindness Ranch.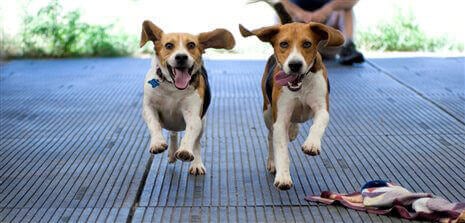 Courtesy Emile Hallez Williams
Kindness Ranch helps animals rescued from laboratories to heal from the torture that they've endured and finds them permanent homes. When recent visitor and PETA pal Dan Hanley met Buddy and Copper, he was inspired to write about them on his website, calling them "complete loves." Even after everything humans have put them through, these two dogs still have lots of love to give.
A PETA undercover investigation of PLRS found that dogs there spent years in cages, being force-fed experimental compounds and infested with worms. Besides the torment of the experiments themselves, laboratory workers screamed and cursed at the dogs, used pressure hoses to spray them with water and harsh chemicals, and dragged them when they would not walk. After PETA released the evidence from the investigation, PLRS shut its doors and surrendered Buddy, Copper, and nearly 250 other animals. Almost a year later, Buddy and Copper are learning to trust. Hanley said that Buddy wiggled right onto his lap, anxious for the love that he was denied for so long. Copper is a bit more reserved, and sudden movements and loud noises frighten him. He slowly makes his way toward new people, still scared but also longing for a kind word or gentle touch. After life in a cage, both dogs love to go for walks and feel soft grass beneath their paws.
By next Labor Day, Buddy's and Copper's lives will probably have changed again. By that time, they will both have homes and families to call their own.
Written by Michelle Sherrow