Folks, this is HUGE: Last week, PETA filed a complaint with the U.S. Department of Agriculture (USDA) as we released details of our lengthy undercover investigation of Professional Laboratory and Research Services, Inc. (PLRS). Today, we're thrilled to report that the North Carolina facility is closing and surrendering its more than 200 dogs and cats.
This victory means that these tormented animals will finally receive the veterinary care and loving homes that they deserve. It is a monumental victory for them and for PETA.
Never again will a worker at PLRS use pliers to yank teeth from a struggling dog who has been denied proper pain relief or get her kicks by trying to rip out a cat's claws. No longer will PLRS supervisors and employees ignore the deafening, desperate cries of animals like Clementine (aka"38902″), a sweet senior Dalmatian, or leave rabbits to suffer painful burns and sores in urine-soaked cages.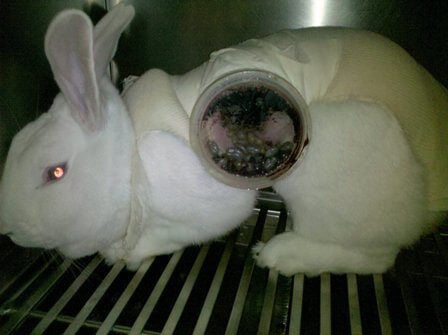 If you're like me, you may need to pinch yourself. Go ahead—and then let's put our hands together for all the people who made this victory possible, from PETA's undercover investigator who spent months chronicling PLRS' cruelty to our compassionate supporters who made certain that news about PETA's effort to end the nightmarish abuses at PLRS spread far and wide.
Written by Karin Bennett