It's officially summer—the season of cookouts, parks, and beaches. Many of us enjoy taking our dogs along for summer fun, which is fantastic, except when people forget that dogs' bodies aren't nearly as well equipped as ours are to handle the soaring mercury and think that leaving their dogs alone in a hot car "for just a minute" will be OK.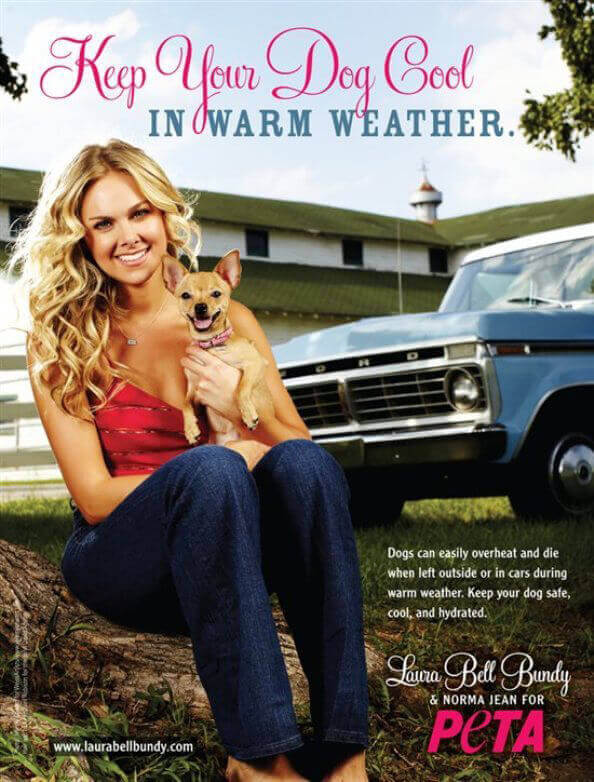 Photo: Jeremy Cowart for WeissArtists/www.jeremycowart.com Hair and makeup: Neil Robison for the David Agency
If we think we're roasting in shorts and a T-shirt, then think about what it would feel like to be wearing a heavy fur coat—not to mention that the only way that dogs can cool themselves is by panting or sweating a small amount through their paw pads. For dogs, sitting in a hot car for a few minutes is far more than simply miserable—it is often deadly. That's why Elisabetta Canalis is partnering with PETA on a new public service announcement urging guardians never to leave dogs in hot cars:
Dogs can sustain brain damage or heatstroke in just 15 minutes—about the same amount of time that it takes to pop into the store for beer and sunscreen. And that's not just on a scorcher of a day either. On a 78-degree day, the temperature inside a parked car with the windows cracked can soar to between 100 and 120 in just minutes.
If you're out this summer and spot a dog inside a parked car, have the owner of the vehicle paged. If you can't locate the owner quickly, then call 911 right away. If the dog appears restless, excessively thirsty, or lethargic; is panting heavily or vomiting; or has a dark tongue, Fido most likely has heatstroke, and you should take steps to get the dog out of the car immediately, offer him water to drink, pour tepid water over his head and torso, and call a veterinarian for advice.
Let's make sure that the dog days of summer are doggone safe for dogs.