When PETA's Community Animal Project team got a call from a man who asked us to euthanize his sick dog, staffers weren't expecting to see an animal who had been suffering for months—or possibly even for years.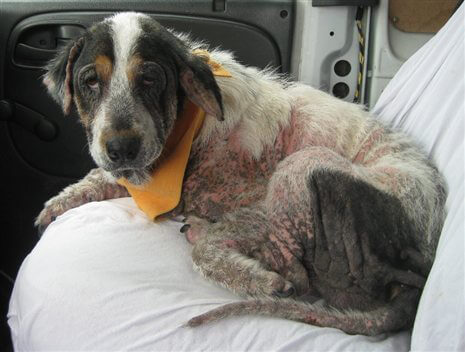 Cordie had mange so severe that she screamed in pain when anyone touched her. She had likely been chewing on her skin to relieve the itching for so long that she had developed a bacterial infection that had eroded her teeth. Cordie was also suffering from a swollen, fluid-filled mass on her ear and a raging yeast infection. As gently as possible, so as not to hurt her further, we ended her suffering and let her slip away from this world. 
All of Cordie's conditions would have been relatively easy to treat if the dog's owner had taken her to a veterinarian long ago when he first noticed her symptoms. He told the PETA staffers that he loved his dog but was unemployed and had had no money for vet care.
Working for a nonprofit, we understand what it's like to live on a tight budget. We recommend that everyone do whatever is necessary to plan ahead for emergency veterinary needs. Putting away even a few dollars a month, buying animal medical insurance, or trying to find a vet who will arrange a payment plan can ensure that animals don't suffer in a tough economy.
Written by Michelle Sherrow