On September 28, a U.S. Department of Defense (DOD) official and his longtime associate were reportedly arrested on felony charges of "promoting and furthering dogfighting," following FBI raids on both men's houses. Hopefully, this action by law enforcement rings the death knell for an allegedly notorious Mid-Atlantic dogfighting organization.
Frederick Douglass Moorefield Jr. and Mario Flythe allegedly promoted dogfights through The DMV Board, a network of private group chats reportedly used to coordinate dogfights across Washington, D.C.; Maryland; Virginia; and other states since at least 2015.
Investigation Revealed Decades-Long History of Dogfighting
The investigation into Moorefield was reportedly launched in 2018 by Anne Arundel County Animal Care & Control after two dogs' corpses were apparently found dumped in a dog food bag allegedly containing mail addressed to him. The search for more information became a joint effort among the local agency, the FBI, the U.S. Department of Justice, and the U.S. Department of Agriculture.
During the raid, federal agents reportedly found a total of 12 dogs languishing in enclosures and seized all of them. But this seems to have only scratched the surface of Moorefield and Flythe's alleged dog abuse, as investigators have reportedly found additional evidence seemingly dating Moorefield's involvement with dogfighting back to 2002.
The DOD has reportedly confirmed that following this bombshell revelation, it no longer employs Moorefield but has refused to elaborate further. If convicted of their currently reported charges, Moorefield and Flythe face a maximum sentence of five years in federal prison.
Instruments of Torture: What Did the Feds Find During Their Raid?
During the FBI's raid of Moorefield's home, agents reportedly discovered mountains of chilling evidence, including the following items:
A crude device made for killing dogs by electrocution
A medical staple gun, likely used to close dogs' gaping wounds
Veterinary steroids
Equipment, such as weighted collars, commonly used to condition dogs for fighting
Training schedules
A phone with access to the encrypted chats used to coordinate dogfights and associated activities
A device made for forcibly inseminating female dogs
Bloodstains on walls, carpeting, furniture, plywood, and other materials consistent with dogfights
The DMV Board Continues to Unravel
The DMV Board chats were allegedly used to organize fights and conduct sales of dogs bred to be used in fighting. They were also reportedly host to conversations about killing dogs who lost fights, exchanging videos of fights, evading law enforcement, and sharing abusive training methods.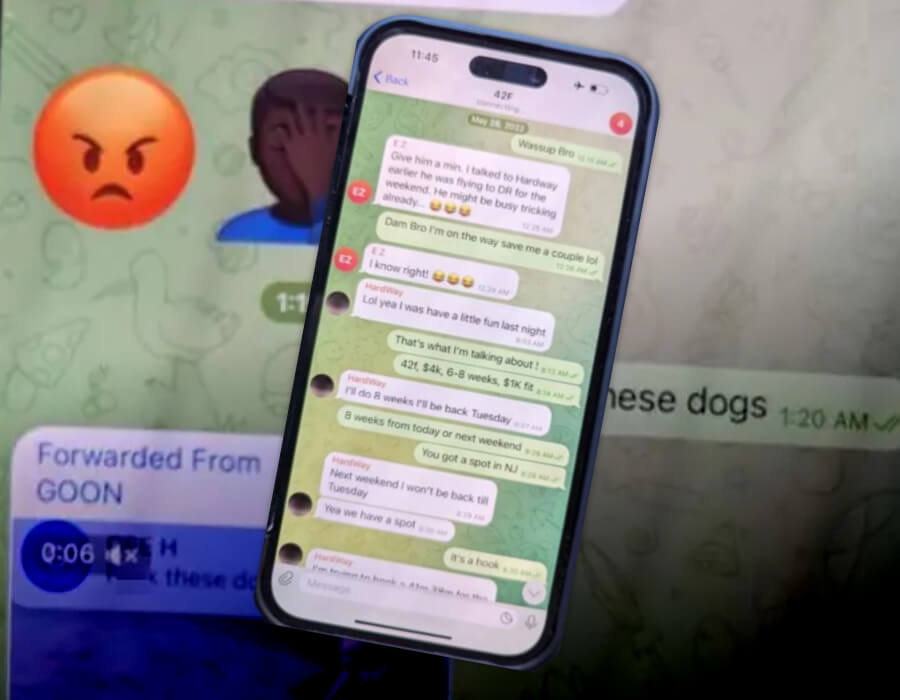 Several people connected with The DMV Board have pleaded guilty and been sentenced to prison for their crimes within the past year. ABC News reported that a known dogfighter aided law enforcement in the investigation against Moorefield, and apparently claimed that Moorefield trained dogs for fighting and bet on fights, in addition to his alleged activity as a promoter.
Dogfighting Is a Despicable Blood 'Sport'—and a Felony
Dogs should be treated as family by their human guardians. Instead of being cherished and loved, dogs who are used for fighting are treated as meaningless objects. They're chained, taunted, and starved in order to trigger extreme survival instincts and encourage aggressive behavior. Dogs who refuse to fight or who lose in fights are often used as "bait" animals, and sometimes they're even abandoned, tortured, set on fire, electrocuted, shot, drowned, or beaten to death.
Survivors of these hellish operations are often too traumatized and potentially dangerous to be considered for placement adoption.
Several professional athletes have come out with PETA in opposition to dogfighting, including "Sugar" Shane Mosley, Lamon Brewster, and Thiago "The Pitbull" Alves. Fighting is only a sport when participants consent, which is something dogs can't do.
Tethering, Chaining, and Caging Dogs Outdoors Is Abuse
Dogfighters and all others who chain and tether dogs traumatize them by depriving them of love, respect, security, and their basic physical necessities.
Dogs kept chained and/or penned outside—often called "backyard dogs"—are deprived of adequate food, water, shelter, and veterinary care. Their physical, social, and emotional needs are ignored.
These dogs are completely vulnerable to the elements—countless chained dogs are left to freeze to death during cold snaps or die of heatstroke on sweltering summer days. Still others struggle to survive rising floodwaters from severe storms.
Never chain a dog outdoors. Learn more about the struggles chained dogs face and how you can help them.
Be a Hero: Report Cruelty to Animals!
If you witness dog tethering, animal fighting, or any other kind of animal abuse, report it right away. Your report can make the difference between a life of suffering and life-changing rescue.