PETA has repeatedly shown how the experiments performed on monkeys in Elisabeth Murray's government laboratory are as ghoulish as they are pointless. Now, we've obtained documents from the National Institutes of Health (NIH)—the agency that houses and funds Murray's lab—that reveal, in gory detail, just how much pain those sensitive beings endure at her hands.
We filed a formal complaint with the U.S. Department of Agriculture (USDA), alleging what we believe are serious violations of the federal Animal Welfare Act.
Grotesque and Painful Surgeries
First, there is the "craniotomy." Experimenters cut open the skin and muscles of the head, remove part of the skull, and cut into the next layer of tissue, exposing the brain to daylight. Monkeys in Murray's lab undergo this procedure not once, not twice, but up to three times.
That's just for starters.
After two craniotomies, toxins are injected directly into a part of the animals' brains. This causes a rapid heart rate and quite possibly respiratory arrest. Resolving the situation can take up to five hours, putting severe stress on monkeys' immune systems and internal organs.
Some of these same monkeys undergo yet another surgery, this one to implant a steel post into the top of their skull. The posts make it easier to keep the monkeys still for further experimentation. It can take four weeks before the monkeys heal from this surgery alone. There are side effects: discomfort, infection, and inflammation, not to mention that their bones and skin start eroding away.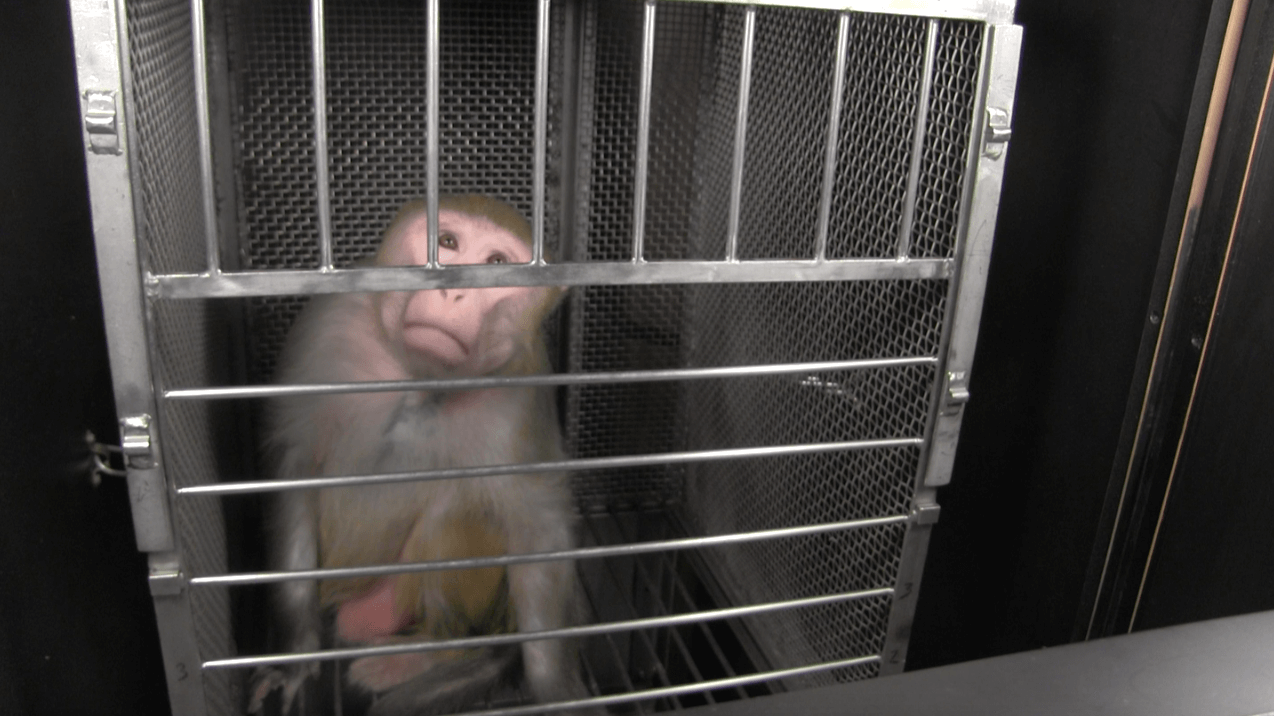 After the head-post surgery, large holes are cut into the heads of many monkeys and chambers are created in their skulls that allow experimenters to inject pharmaceuticals directly into their brains. Experimenters use several nonpharmaceutical-grade drugs—that is, drugs that weren't manufactured to be used as medicine—in these procedures. The doses may be toxic and, unsurprisingly, may cause the animals distress. Experimenters kill the monkeys if they are unable to find acceptable treatments for the impact of the drugs.
Occasionally, an experimenter will hit a blood vessel during these procedures, resulting in hemorrhaging, swelling, or brain death. Additional surgeries are sometimes required to remove bone that has grown into the chambers.
Monkeys feel pain, suffering, joy, and fear, just as humans do. We can only imagine the trauma and unbearable agony that these sensitive animals are forced to endure day in and day out. These experimenters should feel absolutely ashamed of themselves.
One of Murray's victims was taken away from his mother just to be subjected to a life of fear and torment. Watch his story:
Surgery Is Only the Beginning
For some experiments, monkeys also endure painful muscular injections, which can cause uncontrolled muscle twitching and agitation.
Some are strapped into a restraint chair that keeps their head, arms, and/or legs immobilized. Experimenters sometimes tie monkeys' arms behind their backs and use a head post to trap them in place. This goes on for hours at a time, sometimes five days a week.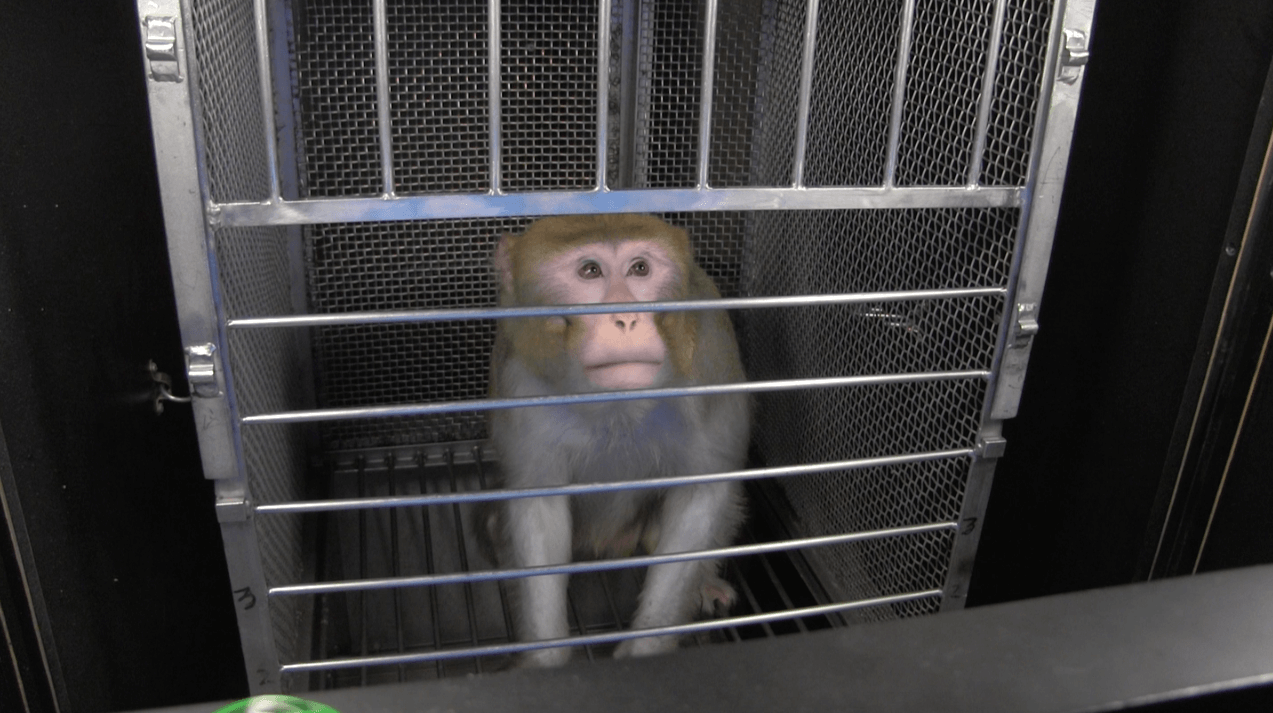 Some monkeys are sedated several times a month, requiring repeated fasting and prolonged restraint. They are also required to lie awake inside a magnetic resonance imaging (MRI) scanner, with their bodies and heads completely restrained for up to five hours at a time.
Experimenters routinely starve monkeys to force their participation. In one experiment, the animals get no food or water until they perform a required task. Their "reward" is a full day's worth of food all at once. They then have only 15 minutes to eat it all. It's called the "Lunch Box" procedure.
All this cruelty is going on inside an NIH laboratory right now.
Imagine How Quickly You'd Have a Mental Breakdown if Kept in Isolation
In nature, rhesus macaques live in groups within a profoundly social environment. Each individual relies on and supports the group with clearly defined roles. Murray's surgeries and experiments prevent the monkeys in her lab from behaving normally, providing cover for her decision to keep them caged in isolation.
The evidence that social isolation causes primates severe physiological and psychological harm is overwhelming. Caging monkeys alone leads to self-injurious types of behavior, including pulling out their own hair, biting themselves, poking their own eyes, and other forms of self-mutilation. That's exactly what the video footage shot inside Murray's laboratory shows: isolated, terrified monkeys cut off from any support system.
Violations of Federal Animal Welfare Laws
PETA's complaint to the USDA alleges various possible violations of federal law. Murray subjects monkeys to multiple invasive surgeries from which they aren't allowed to recover. She failed to consider other approaches, such as human-based research methodologies; failed to ensure that veterinarians would have sufficient authority to prioritize some modicum of welfare for the monkeys; and failed to classify her experiments as causing unrelieved pain and distress in monkeys.
We Must Defund These Experiments Right Now
Murray claims her experiments shed light on human neuropsychiatric disorders. However, they have not resulted in a single treatment or cure in three decades. NIH keeps trucking in the money for her, though. Over the past 13 years alone, she has received more than $36 million in taxpayer money to continue this pain factory.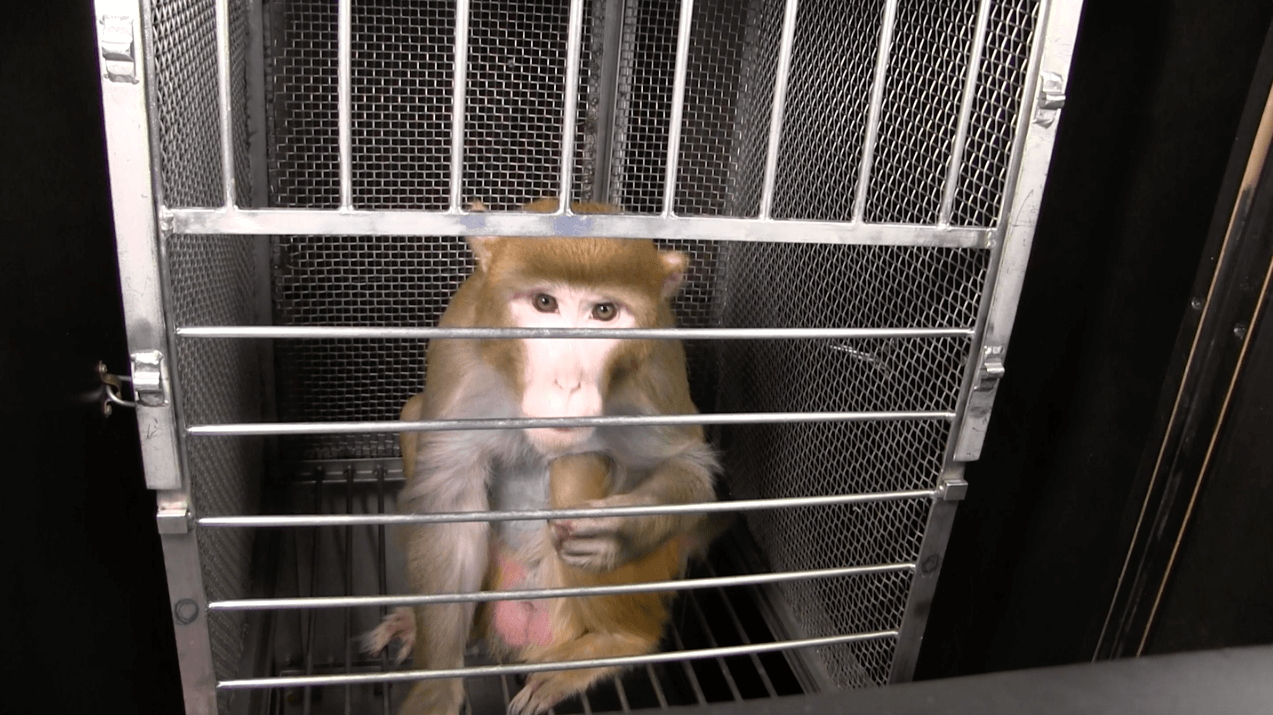 We need Murray's experiments like those monkeys need yet another hole in the head.
Please take action to shut down this little shop of horrors, retire the surviving monkeys to sanctuaries, and redirect taxpayers' money toward superior, non-animal research methods that benefit humans.