PETA is all for reproductive responsibility, so after learning that a Nashville man was looking to get "fixed" after the 14 mothers of his 22 children took him to court over unpaid child support, the group is offering to pay for his vasectomy—if he'll help promote the equivalent procedure for dogs.
In return for covering Orlando Shaw's medical expenses, PETA is asking him to put a sign on his lawn reading, "Don't let your dog be a deadbeat dad. Get him neutered today."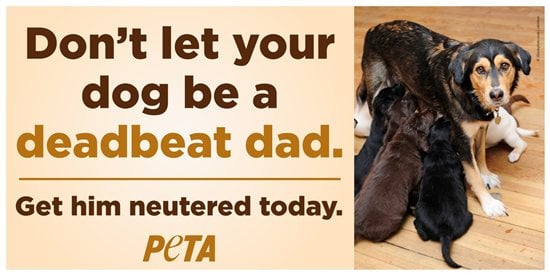 © iStockphoto.com/niknikon
Animal birth control saves lives. Each year in the U.S., 6 to 8 million dogs and cats are dumped at shelters, and nearly half of them must be euthanized since there are simply too many animals and not enough good homes.
That's why spaying or neutering is such a crucial step. One pair of unaltered dogs and their offspring can produce 67,000 dogs in just six years—a birthrate that even Shaw couldn't approach!
Need another incentive? Spayed and neutered animals live longer, happier lives. Sterilization eliminates their risk of uterine and testicular cancer and reduces their odds for developing serious diseases, such as mammary and prostate cancer and feline AIDS and leukemia, and lessens undesirable behavior such as roaming and spraying.
What You Can Do
Please pledge to end animal homelessness by sterilizing your own animal companions and working with lawmakers to enact mandatory spay/neuter legislation in your city, county, or state.