A Daylight Saving Time serial killer? It's true. Researchers around the world have discovered that each year, on the Monday following the "spring forward," heart attack rates skyrocket. U.S. hospitals see a full 25 percent more heart attack sufferers at that time.
Conversely, during the fall weekend when we turn back the clocks, heart attack rates drop by 21 percent. Researchers aren't sure why, but one theory is that the fluctuations are linked to the amount of sleep that people get at these times.
Regardless, PETA has a way to help you beat the odds. We can't save you from Jason Voorhees or Michael Myers, but we can definitely help you dodge the Daylight Saving Time killer. You can lower your heart disease risk by 40 percent just by going vegan—and we've got the kit to get you started.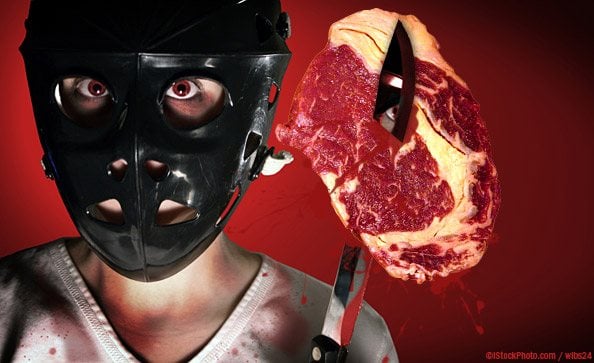 Researchers with the Physicians Committee for Responsible Medicine (PCRM) reviewed numerous clinical trials and observational studies and consistently found strong evidence that plant-based eating can reduce a person's risk of death from cardiovascular disease by 40 percent, reduce the risk of developing coronary heart disease by 40 percent, and partially or even fully open up blocked arteries in up to 91 percent of patients.
"A plant-based diet has the power to not only prevent heart disease, but also manage and sometimes even reverse it—something no drug has ever done," said PRCM's Director of Clinical Research Hana Kahleova, M.D., Ph.D.

So don't just change your clock—change your life (and protect it). Let this be the year that you spring into a healthy new lifestyle.
Note: Regrettably, PETA can't save you from showing up somewhere an hour late, so don't forget to still change your clocks.