In a scathing new report, an expert veterinarian confirmed what PETA has known for years: Libby and Bunny—two Asian elephants leased by Carson & Barnes Circus and forced to do pointless, dumb tricks at Garden Bros. Circus—are suffering immensely.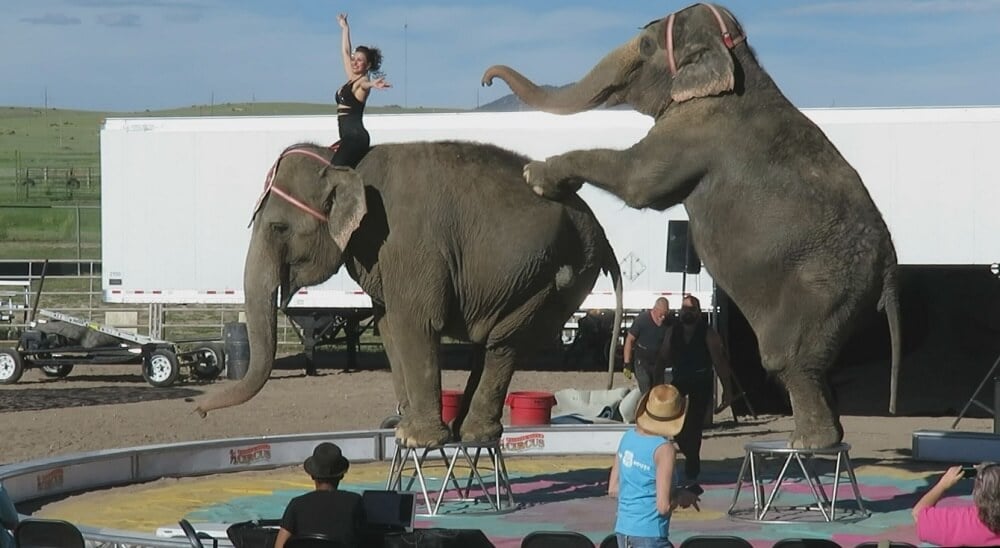 Elephant expert Dr. Philip K. Ensley—who has over 30 years of clinical experience working with animals—observed two Garden Bros. performances to assess the welfare of these elephants. His findings were heartbreaking: "Based on observations, and a review of videos and photographs, I concluded Libby and Bunny to be abused, injured, harmed, and harassed elephants suffering physically, in a state of psychological deterioration."
Fear and Swollen Joints
As the report explains, elephants perform only after being violently dominated by trainers using sharp metal poker-like weapons called bullhooks. Dr. Ensley noted that both Libby and Bunny were led by handler Habib Omar, who carried a bullhook to force the elephants into unnatural body positons. He explained that "[t]he ultimate purpose of the bullhook is to enforce a harmful standard of care with which elephants cannot cope."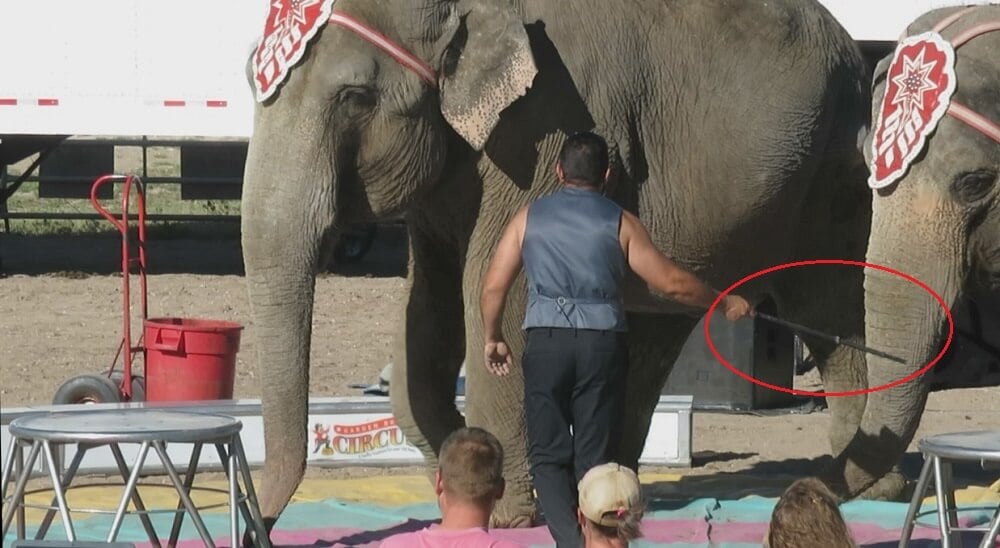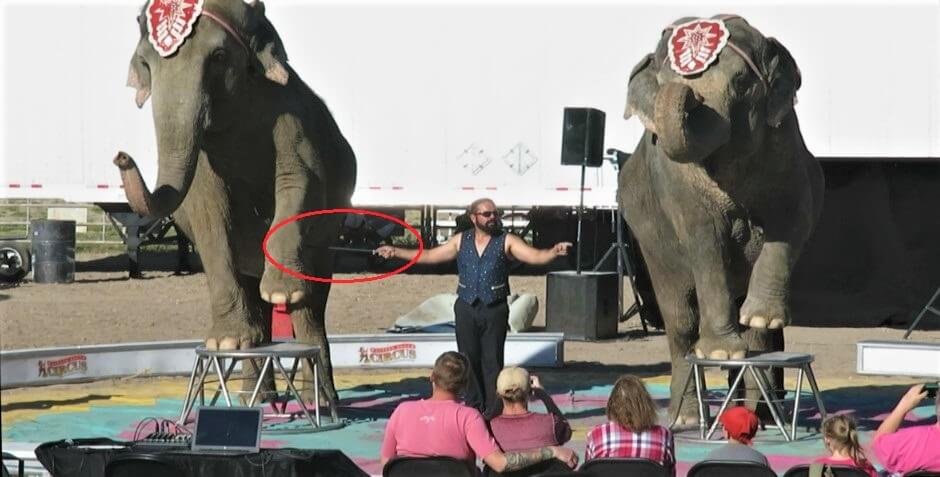 He documented that there were calluses on the elephants' elbows as well as immediately in front of the knees. These are caused by a long-standing practice of having performing elephants kneel down on hard and stiff surfaces.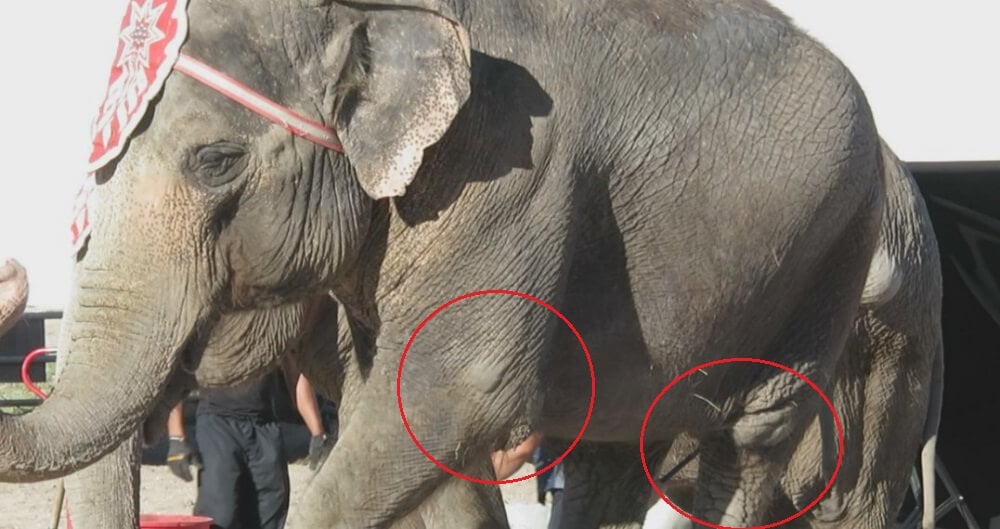 He said that, after years of being forced to perform difficult tricks, such as standing on stools and carrying humans, "Bunny displayed a reduced range of motion" in her right front wrist, most likely because of painful arthritis. He also stated that this disease is most likely being intensified and worsened by repetitive motions and joint-stressing, unnatural types of behavior.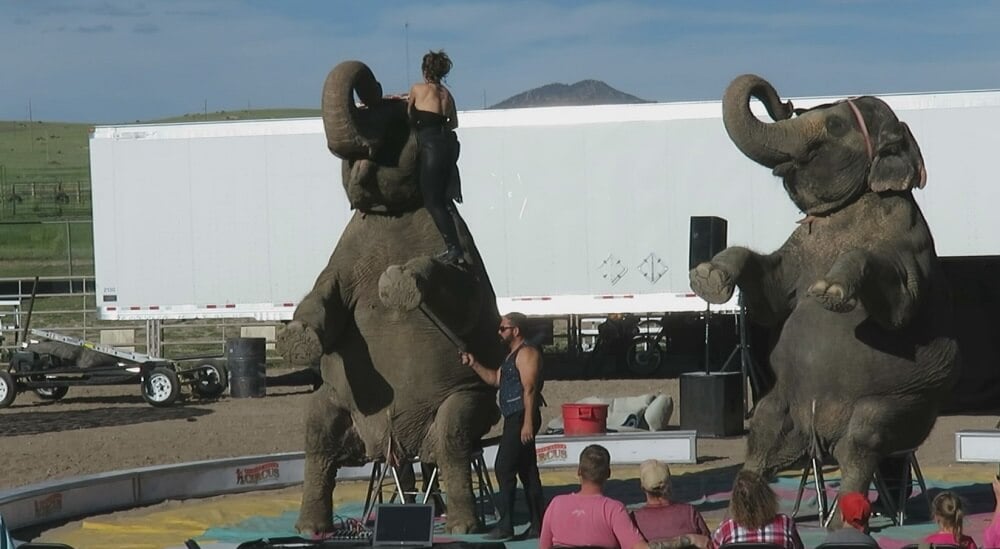 Both elephants also had chipped and cracked toenails. These sorts of painful foot problems and arthritis are the leading reasons why captive elephants are euthanized.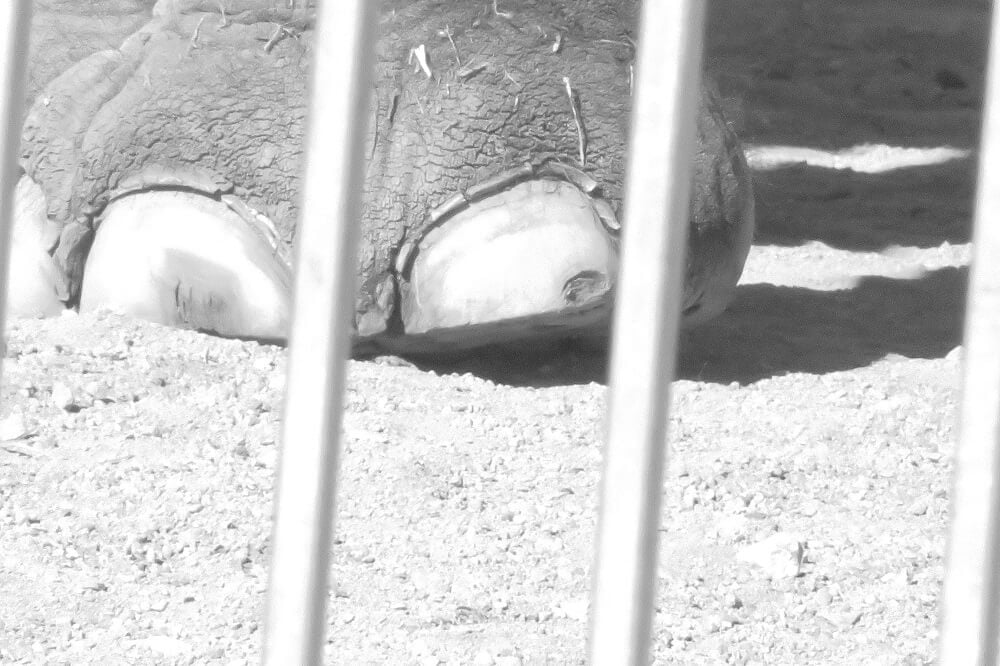 Living in Pain and Misery Every Waking Minute
Performing while "crippled and maimed" is part of everyday existence for these elephants. Dr. Ensley got only a small snapshot of their grueling schedule. PETA's records show that from January to July, Garden Bros. was scheduled to travel to 147 different towns in 39 different states—performing hundreds of shows with very few days off.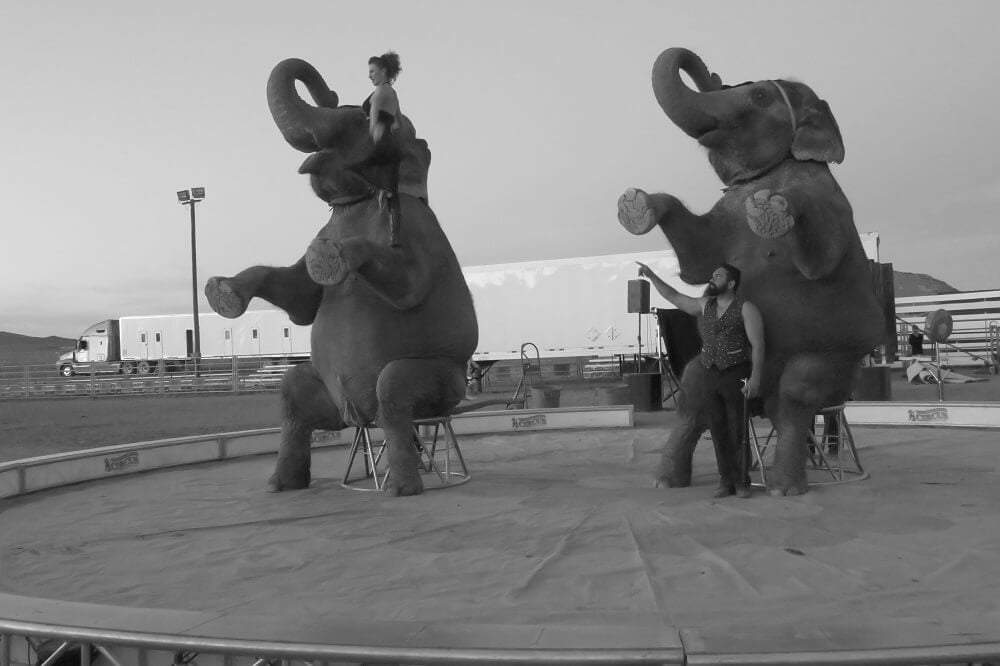 For Libby and Bunny, that's 147 different locations in which they're chained, confined, or severely restricted in cramped tractor trailers. According to the report, because of these forced prolonged periods of confinement, the elephants endure chronic physical pain and psychological breakdowns.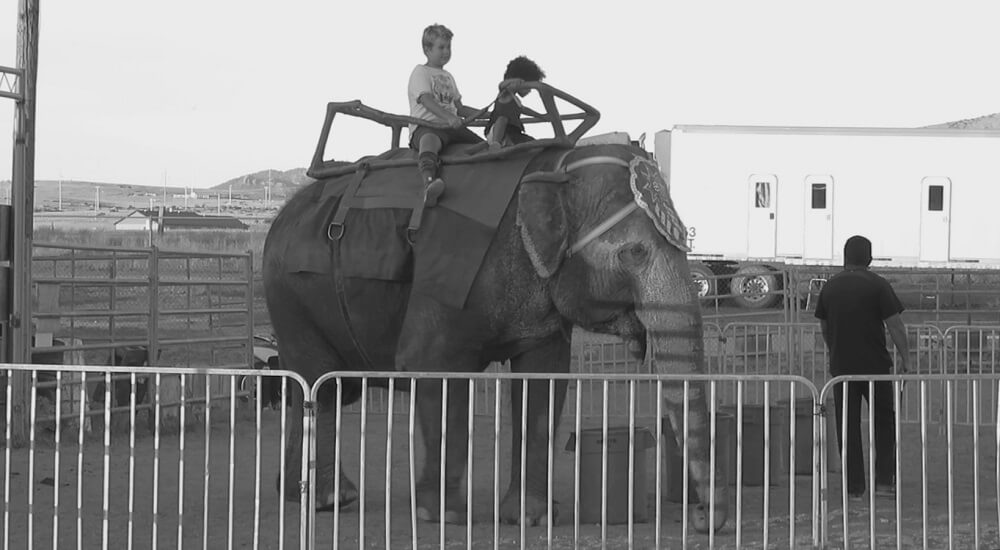 "Both Libby and Bunny demonstrated rote non-species typical behaviors during their performances, suffer physical injuries, inhabit intolerably restricted spaces and are subjected to a travel and work schedule that is inhumane by any standard," Dr. Ensley wrote in the report.
In his short time observing these humiliated and tortured elephants, he saw Libby repeatedly sway back and forth, which indicates psychological distress.
He concluded that "[t]heir natural behavior as elephants is disrupted to the point where they experience permanent harm."
Well-Documented Monsters
We're all too familiar with Carson & Barnes Circus, the infamous company that leases out Libby and Bunny. It's been cited for more than 100 violations of the federal Animal Welfare Act—including for failing to provide animals with basic necessities, such as adequate veterinary care, minimum space, shelter from the elements, and clean water. In 2016, the U.S. Department of Agriculture cited Carson & Barnes for failing to provide Bunny, specifically, with veterinary care.
A PETA eyewitness also caught Carson & Barnes Director Tim Frisco violently striking elephants with a bulhook and shocking them with an electric prod to make them scream.
And watch how, in this behind-the-scenes video, Habib Omar yells at Libby and yanks her head down with a bullhook:
Libby and Bunny Need Your Help
No animal wants to perform in the circus. Beating and electrocuting animals and depriving them of everything that's natural and important to them are how circuses get them to perform on cue. Tell Carson & Barnes Circus to end its cruel animal acts and send the animals to reputable sanctuaries now.